Concert Features Gettysburg
Native Colin Stokes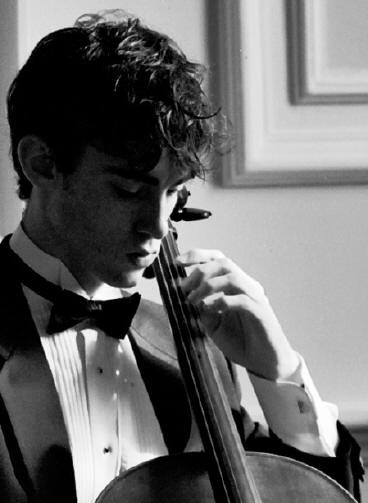 (4/28) The Gettysburg Chamber Orchestra (GCO) will present a concert Sunday, May 10, at 4:00 pm, featuring cellist Colin Stokes, from the Eastman School of Music, performing the Dvorak Cello Concerto. The Brahms Symphony No. 2 rounds out the Music Gettysburg! sponsored concert in the chapel of the Lutheran Theological Seminary at Gettysburg.
Colin Stokes was born and raised in Gettysburg and attended local schools until he transferred to the Baltimore School for the Performing Arts. While in Baltimore he received the Klein Scholarship for the Most Promising Artist. Further acclaim came when Colin was selected by noted cellist Yo-Yo Ma as one of the outstanding young cellists of his generation, and Colin performed with Ma at the Strathmore Center in Maryland. Colin is currently a student at the Eastman School of Music, pursuing a Bachelor of Music degree in Performance, and studies with Steven Doane and Rosemary Elliott. He has performed with many noted musicians other than Yo-Yo Ma, including Ani Kavafian, Jesse Levine, June Han, James Taylor and Wei-Yi Yang. In 2008 Colin made several appearances on the Norfolk Chamber Music Festivalís Master Series, an extension of the Yale School of Music.
The Dvorak Cello Concerto is the most outstanding concerto written for that instrument and was written when the composer was Director of the National Conservatory of Music, in New York, in the 1890ís. This was the time when the most noted work by Dvorak was written-the Symphony from the New World. Brahmsí Symphony No. 2 was composed a few years before the Dvorak concerto and is an outstanding example of the Romantic Symphony. Both works require a huge orchestra, with full wind and brass sections.
The Gettysburg Chamber Orchestra was founded by Carolyn and Norman Nunamaker in 1997, and is currently in its eleventh year of operation. One of the missions of the founders was to include as many local musicians as possible both as members and as soloists. More than half of the GCO members are from Adams County, and many local musicians have appeared as soloists with the ensemble. The orchestra has often featured, as soloists, native Gettysburg musicians who are now performing professionally elsewhere, including New York, Atlanta, Santa Clara, CA, and more.
Since its founding, the local orchestra has worked in collaboration with Music, Gettysburg!≠ the premiere classical, folk and sacred music concert series for the south central Pennsylvania area, hosted by the Gettysburg Seminary, now in its 28th year. All concerts take place in the Seminary Chapel and all concerts are presented free of charge. For more information about this concert please call 717-334-5508, or see remaining concerts in the 2009 series at www.musicgettysburg.org .