Music Gettysburg! Presents the
U.S. Soldiers Chorus in Concert
(1/21) Music Gettysburg! welcomes the U.S. Soldiers Chorus on Sunday, January 27th at 4 PM in the chapel of the Gettysburg Seminary. This vocal ensemble is the compliment of the United States Army Field Band of Washington D.C. and offers the most superbly disciplined choral sound.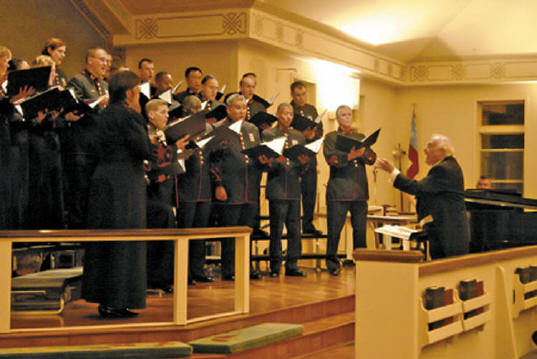 The popular Soldiersí Chorus returns to Gettysburg with its 30-voice, mixed chorus with a wide ranging repertoire. You will hear Broadway tunes, opera and the favorite music of Americana, and historic battlefields everywhere.
This versatility has earned the Soldiers' Chorus an international reputation for presenting musical excellence and inspiring patriotism. Critics have acclaimed recent appearances with the Boston Pops, the Cincinnati Pops, and the Detroit, Dallas, and National symphony orchestras. Other notable performances include four world fairs, American Choral Directors Association conferences, music educator conventions, Kennedy Center Honors Programs, the 750th anniversary of Berlin, and the rededication of the Statue of Liberty.
"There is no more popular choral ensemble than the U.S. Soldiers Chorus" said Gerald Christianson, Music, Gettysburg! steering committee member, "and because so many know this group, it will be good to arrive early to ensure a seat."
The chorus was founded in 1957 and plays regularly at the White House between appearances in all 50 states. The mission of the United States Army Field Band is to "carry into the grassroots of our country the story of our magnificent Army." In performances across America and throughout the world, the men and women of this organization take great pride in reflecting the excellence of all our nationís soldiers.
Enjoy this rare Washington area performance by one of the nationís premier touring choirs in a Sunday afternoon concert, January 27th at 4pm, which is free and open to the public.
The Seminary Chapel is on Seminary Ridge in Gettysburg. For more information about this and other concerts in the 2008 Music, Gettysburg! schedule, please call 717-338-3000 ext 2197 or visit the Music, Gettysburg! web site: www.musicgettysburg.org.