145th Anniversary Re-enactments in Gettysburg
(6/30) With five re-enactments scheduled over nine days, this historic Pennsylvania town is bustling. Soldiers are arriving into town, hotels are at full capacity and thousands of visitors are on their way to catch a glimpse of history in the making.
Not only do visitors have an opportunity to watch the intense recreation of American history, but living history encampments at each event help bring history alive by allowing the public to talk one-on-one with the soldiers and hear their heroic, and sometimes tragic, stories.
At High Water
The action begins this weekend with the At High Water re-enactment near Pumping Station Road southwest of Gettysburg. With only 1,000 tickets available, this re-enactment puts the spectators and re-enactors in the center of battle.
The first battle begins Saturday morning at 11 a.m., and subsequent battles take place at dusk on Saturday and Sunday morning at 11 a.m. Re-enactments will replicate the battle near Seminary Hill, the second day at Gettysburg and Gen. Longstreet's attacks at the Peach Orchard and Wheatfield.
For more information, visit www.wmhf.org/athighland/index.html
Battle of Hanover
This cavalry re-enactment will begin on July 2, when Confederate cavalry will camp at Union Mills, Md., and make their way across the Mason-Dixon line the next day into Pennsylvania. When they reach a farm along Westminster Road near the Long Arm Reservoir between Hanover and Littlestown, Pa., the cavalry will engage Union forces in a re-enactment of the Battle of Hanover.
Visitors are invited to join the cavalry on the morning on July 3, prior to leaving Union Mills, for a pancake breakfast with the soldiers. Gates to the re-enactment open at 11 a.m., with the battle re-enactment scheduled to begin at 6 p.m.
Tickets are available by calling (717) 334-2828 or online at www.lcacnet.org. More information can be found online at www.unionmills.org.
Early's March to Gettysburg
On a rainy Friday afternoon in 1863 prior to the Battle of Gettysburg, Confederate Gen. Jubal Early and his division of 5,000 men approached Gettysburg on their way to support Lee's pending northern invasion by cutting off the railroad at York and destroying the bridge across the Susquehanna at Wrightsville. The 2,400 residents of Gettysburg were aware the Confederates were close by and had taken precautions by fleeing with or hiding merchandise, livestock and supplies.
More than 1,000 re-enactors will re-enact this march into Gettysburg on July 3, at 11 a.m. on Baltimore Street in front of the Adams County Courthouse.
For more information on this event, visit www.gettysburgreenactment.com.
Battle of Gettysburg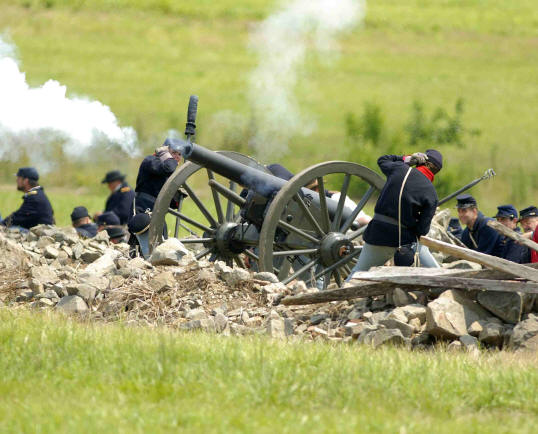 Without a doubt, the 145th anniversary of the Battle of Gettysburg will go down in history. Like every fifth year, re-enactment organizers think big, and this year is no exception.
More than 12,000 re-enactors, 450 cavalry and 100 full-size cannons are registered to take part in this year's battle re-enactment. Six battles are planned over three days, July 4-6, 2008, including a massive re-enactment of Pickett's Charge.
This event draws re-enactors from all over the world, including Canada, England, Ireland, Belgium, Germany, Australia and many parts of the United States.
More than 1,000 re-enactors, from the Texas-based Hood's Division, are traveling two days and 1,500 miles with horses, artillery and wagons to march into battle in Gettysburg, Pa.
A Living History Village will host all-day activities, including a large and diverse sutler village and food and beverage tents.
The re-enactment will be held at the Redding Farm, just three miles north of Gettysburg on Table Rock Road. Gates open at 8:30 a.m. each day. Event information and tickets are available in advance at www.gettysburgreenactment.com or by calling the Gettysburg Anniversary Committee at (717) 338-1525.
The Shriver House Re-enactment
Billed as the only re-enactment in the streets of Gettysburg, the Shriver House Museum hosts one of the most exciting events in the downtown area.
Beginning at 5 p.m. on July 5, this living history presentation will begin outside the Shriver House, 309 Baltimore Street, and will tell the story of George and Hettie Shriver, their two young daughters and their struggle during one of the most significant times in American history.
After a re-enactment - which includes Confederate sharpshooters in the attic of the Shriver House, visitors will have an opportunity to speak with soldiers and even share a rootbeer in the Shriver House Saloon located in the cellar.
The Shriver House was restored in 1996 and is open to the public as a heritage museum. The museum has received several national awards and has been a filming site for several documentaries.
To find out more about the Shriver House re-enactment, visit www.shriverhouse.org or call (717) 337-2800.
For more information on these events and visiting Gettysburg, see www.gettysburg.travel.