Gettysburg Chamber Orchestra and Kathleen Sasnett Offer Concert of Familiar Favorites for Music, Gettysburg!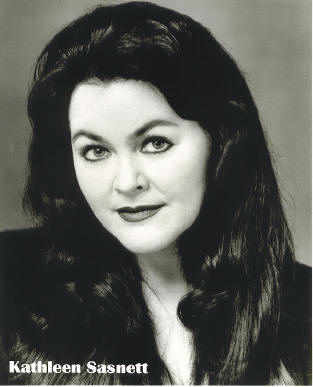 Soprano Kathleen Sasnett will join the Gettysburg Chamber Orchestra for a concert on Sunday, May 11, at 4:00 pm in the Seminary Chapel in a performance of favorite arias from operas by Puccini and the incomparable "Four Last Songs," written by Richard Strauss. The concert will be conducted by Norman Nunamaker and will also include the famous "Unfinished Symphony" by Franz Schubert and Respighiís "Ancient Dances and Airs, Suite I."
Ms. Sasnett is Professor of Music at the Sunderman Conservatory of Music of Gettysburg College where she teaches voice and directs the annual opera workshop. She is a former Miss Washington and a Top Ten Finalist in the Miss America Pageant, and an international performer in opera, oratorio and musical theatre. As a Seattle Opera Young Artist, Kathleen performed in over 15 roles, and continued her studies at the Metropolitan Opera, as well as in Italy and Germany. A finalist in the Altamura/Enrico Caruso International Vocal Competition, this "lovely soprano," with a "voice vividly alive" has performed with over 30 professional symphony orchestras and choral groups, ranging from Beethovenís 9th Symphony to Verdiís Requiem. In 2007 she performed the leading role of Lady Billows in Benjamin Brittenís "Albert Herring" for a European tour. In October, Kathleen performed Straussí "Alphorn" and Gounodís "Le Soir" on the Baltimore Chamber Symphony series. Local audiences heard her sing the role of Dulcinea in the Eichelberger performance of "The Man of La Mancha," in 2007
The Gettysburg Chamber Orchestra celebrated its 10th Anniversary with a special concert last September featuring two world premieres: a composition entitled "Seduction and Sanctification," written by New York composer/conductor Victoria Bond, and another composition entitled "Caldey Variants," written by local composer and musician Dr. John (Buzz) Jones, currently Director of the Sunderman Conservatory at Gettysburg College. The GCO was joined by the Aureole Trio from New York as soloists in that program, and one of the members of this group is former Gettysburgian, violist, Mary Hammann, also a member of the Metropolitan Opera Orchestra.
The Gettysburg Chamber Orchestra was founded in 1997 by Norman and Carolyn Nunamaker, both local educators, Norman with Gettysburg College and Carolyn with the Gettysburg Area Middle School, where she was the Principal for ten years. The group has presented concerts featuring many local musicians both as members and as soloists and will continue to do so. In May of 2009, local cellist Colin Stokes, a student at the Eastman School of Music, will be the featured soloist, and in July of 2009, pianist Jocelyn Swigger, also a member of the Sunderman faculty, will perform Beethovenís Piano Concerto No. 4, in G major.
The concert is sponsored by Music, Gettysburg! and the Pennsylvania Partners in the Arts (PPA), which is the regional arts funding partner of the Pennsylvania Council on the Arts. State government funding comes through an annual appropriation by Pennsylvaniaís General Assembly and from the National Endowment for the Arts, a federal agency. PPA is administered in this region by the Council for the Arts in Chambersburg. This concert is free and open to the public. Also open to the public is a pre-concert lecture by John Horner, a local Schubert lover and patron of the arts, which will be presented at the Seminary Refectory at 3:00. All persons attending this lecture will have reserved seating for the 4:00 concert.
Following the concert, the Seminaryís Fine Arts Council holds a reception and opening of "Flamebodies," an exhibit of fine art photography by Pamela Cooper-White inspired by Pentecost themes and theology.
Music, Gettysburg! is a premier free concert series featuring the finest regional, national and international musicians for Central Pennsylvania audiences. There are no tickets for this performance. Concerts are open to the public and hosted at the chapel of the Gettysburg Seminary. For more information about this and other concerts remaining in the 2006-2007 Music, Gettysburg! schedule, please call 717-334-6286 ext 2197 or visit the web site at www.musicgettysburg.org . For Chamber Orchestra information, call 717-334-5508.