David Mamet play "The Cryptogram" opens February 22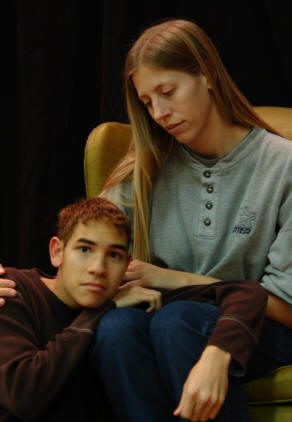 Even as Donny (Hilary Snesrud) tries to comfort her son John (Zade Cochran), mysteries deepen in playwright David Mamet's play 'The Cryptogram.'
(2/3) The mention of playwright David Mamet, may conjure images from his classic plays such as "American Buffalo" "Glengarry Glen Ross."
If you watch televison, you may know him as the creator, producer and a frequent writer of the television series "The Unit."
On film, you may recognize his fast-paced wit in "Wag the Dog" and "The Postman Always Rings Twice."
One of the most prolific American writers, he is a master of language whose stories revolve on social interaction and conflict.
On February 22, Gettysburg Stage presents the Mamet play "The Cryptogram," directed by Stephen Wilcoxson, founder of Gettysburg Stage.
"The Cryptogram" is not easily explained, except to say the playwright takes the audience through fast-paced scenes that are drama, mystery and a puzzle. Director Wilcoxson describes the work, "Itís a coming-of-age play involving a young boy whose world canít seem to intersect with the world and language of the adults in his life, his mother and his motherís male friend."
The New York Times has said the play is "radical and elliptical" and that "it speaks in code." The New York Post said of the 1995 production, "MametÖhas invented an original and vastly interesting play."
A cryptogram is a coded message that can only be decoded by someone with inside knowledge of the cipher.
This Gettysburg Stage production features veteran actress Hilary Snesrud of Hagerstown as Donny, the mother, while her friend Del is portrayed by Ken Pierson of York Springs. Rounding out the role of son John is Zade Cochran, an eleventh-grade student at Gettysburg High School.
Set design is by Pamela Hurlbert, with technical direction by David Hurlbert. Stage manager is Carol Sheffer.
"The Cryptogram" will run February 22, 23, 29 and March 1, 7, 8. All shows begin at 8 p.m. at Keefauver Center, 157 Lefever Street in Gettysburg.
Admission prices are $12, or $10 for students and those 60 or over. Reservations may be made by calling toll-free 1-866-859-5192 or emailing gettysburgstage@hotmail.com. While there are no advance sales, reservations are honored at the door on the night of the performance. Seating is open.
Additional info on Gettysburg Stage is available at www.gettysburgstage.org.
Gettysburg Stage is a 501(c)3 non-profit, all-volunteer theatre ensemble, formed in 2003 and dedicated to challenging, socially conscious, often fun live theatre.