Music, Gettysburg! Presents Company
at the Creche

December 21st -- Bel Voce Also Featured in Concert

Seeing Christmas through eyes of those other creatures around the Christmas manger, Music Gettysburg! presents Company at the Creche on Sunday, December 21, at 7:00 P.M. in the chapel of the Gettysburg Seminary.

This festive concert, one of the most popular in the Music, Gettysburg! season, will feature the anthems, motets and holy songs of the Christmas tradition that offer the perspectives of the animals who provided "company at the cr

Pche: for the Christ child. That musical company includes oxen, doves, stork and spider, chanticleer, field mouse and more of the "friendly beasts" in the hour long concert.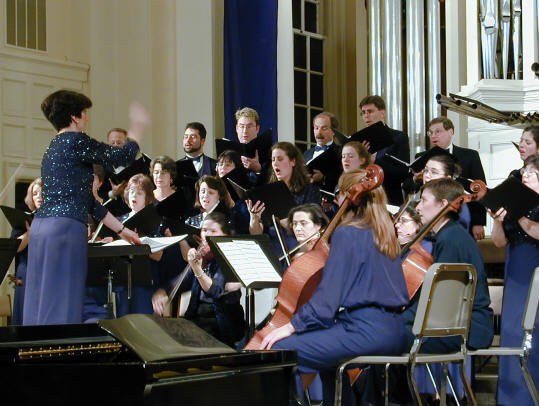 Performing for the concert is Bel Voce, under the direction of Theresa Bowers. Bel Voce, which is making its second appearance for Music, Gettysburg! audiences, is a versatile leading edge choral ensemble of gifted musicians from the Pennsylvania capital area, whose eclectic programming includes a wide variety of musical styles and cultures. The Gettysburg College Children's Choir directed by Jamie Bowman, and favorite solo vocalists, pianists, string artists and woodwinds will round out the list of performers.
The concert will include a moving rendition of "O Magnum Mysterium" by Vittoria, the popular "Friendly Beasts"carol, "Chanticleer" by Aaron David Miller, and "The Oxen" from Ralph Vaughn Williams' Hodie. More carols and songs of Christmas, including favorites such as "I Wonder as I Wander" and "Good Christian Friends, Rejoice" will be intermingled with readings from scripture and poetry of the Christian tradition. Baritone Wayne Hill perform solo vocal music.
Come enjoy this Sunday evening holiday concert which is free and open to the public. The Seminary Chapel is located at 147 Seminary Ridge on the west edge of Gettysburg. For more information about this and other concerts remaining in the 2008-2009 Music, Gettysburg! schedule, please call 717-334-6286 ext 2197 or visit the web site at www.musicgettysburg.org .