Eighth Annual Adams County Irish Festival
(7/12) The Eighth Annual Adams County Irish Festival will be held rain or shine on Saturday July 21, 2007 in the shady grove of the Gettysburg Moose Park. The gate opens at 10:00 AM and the festival runs until 7:30 PM. The park is located at 100 Moose Road which is just off of US Route 30 in Straban Township about a mile and a half east of the US 15 interchange near historic Gettysburg, PA. Admission is $10 for adults and children under 12 are free.
With a full day of Irish music, food, merchandise and more, the festival offers wholesome family fun while primarily benefiting the Children's Friendship Project for Northern Ireland (CFPNI). CFPNI is a peace and friendship building program that selects and pairs Catholic and Protestant teens from Northern Ireland to pursue a friendship between themselves, their families and friends. As part of the program, CFPNI-paired teens spend time with host families in the U.S. where they can pursue friendship and understanding in a neutral environment while focusing on their similarities rather than differences. The festival is again partnering with Moose Lodge 1526 of Gettysburg to provide a monetary donation to CFPNI. A long-term goal of the festival is to also help fund the eventual establishment of a national Irish history museum and library in the Gettysburg area. This year's festival is sponsored in part by Environmentally Safe Products, Harrisburg St. Patrick's Day Parade Association, the Wyndham Gettysburg, Garryowen Irish Pub and Flatbush Golf Course.
South-central Pennsylvania is traditionally known for being an area populated by German immigrants but what is less known is its Irish heritage. In the latest census, about 15% of Adams County's population claimed Irish ancestry. Many of the early 18th century settlers in what is now Adams County were Irish or Scots-Irish immigrants and various place names in the county such as Irishtown, Straban, Tyrone and McSherrystown reflect the Irish influence. Now in its eighth year, the Adams County Irish Festival appeals not only to those interested in Irish heritage and culture but also to bluegrass music fans as that genre has its roots in the traditional music of Ireland and Scotland. The oldest and largest Irish festival in south-central Pennsylvania drew a record crowd of over three thousand people last year who enjoyed local, regional and internationally known musicians, Irish step dancers, Irish food, music workshops, living history exhibits plus art, craft and gift vendors. The festival was recently voted the best festival/special event of the area by the readers of Celebrate Gettysburg in the magazine's first-ever "Gettysburg's Greatest" awards.
Bolstered by last year's success, festival organizers are looking to make the one-day festival into a weekend event. To help people get "primed" for the festival itself, the four-piece Irish band Rossnareen from Baltimore will perform at the inaugural Adams County Irish Festival Kick-Off Concert at 7:30pm on Friday July 20 in the Wyndham Hotel Ballroom at Gateway Gettysburg. Admission for the concert is $5 and can be paid at the door.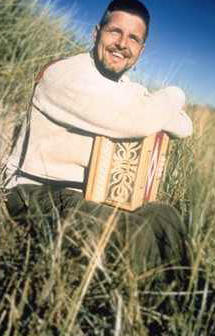 Another big turnout is anticipated for this year's festival as organizers have once again assembled an impressive entertainment line-up featuring the original Riverdance's button accordion master John Whelan plus several popular regional and local musical groups, a pipes and drums band and a special children's show by a noted folksinger.
Seven-time All-Ireland Champion accordionist John Whelan will be making his Adams County Irish Festival debut this year. Although he grew up in England, John Whelan was raised exclusively on traditional Irish music by his parents who both came from Ireland. By age 14, Whelan's skill on the two row button accordion had already earned him several accordion championships and he recorded his first solo album, The Pride of Wexford, in honor of his father who hailed from there. After moving to America in 1980, Whelan soon began performing with Riverdance fiddler Eileen Ivers in what became one of the most popular Irish duos of the decade. Whelan also performed in the original Broadway production of Riverdance. In America, Whelan was exposed to other types of music and he expanded the boundaries of Celtic music through collaborative projects with artists from the country and world music scenes. In the late nineties, the John Whelan Band thrilled audiences in America and Europe and Whelan was named Traditionalist of the Year by the Irish Echo in 1998. Whelan has recorded over a half-dozen albums. In addition to success as an instrumentalist, composer and arranger, Whelan has made appearances on Connecticut Public Television, appeared in Ang Lee's 1999 film Ride With the Devil and produced the Celtic rock band Black Thorn in 2001.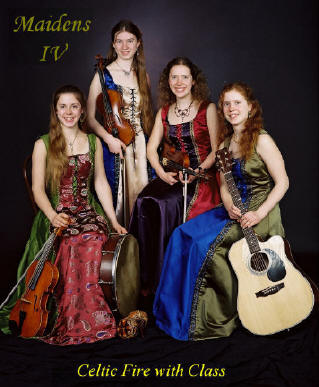 Also making their festival debut is Maidens IV, a fiery band of four sisters hailing from rural Ohio.
Back by popular demand for their third festival appearance after a one-year hiatus is Barleyjuice, a kilt-clad high energy band from the Philadelphia-Baltimore corridor. The ever-popular Irishtown Road, the Adams-York area's pioneer Irish band, will be making their seventh festival appearance and will be performing their unique and lively mix of traditional and original Irish jigs, reels, ballads and rebel songs. Cormorant's Fancy, an energetic and spell-binding Irish folk band from Gettysburg, returns for the third consecutive year to showcase their fine harmonies and multifaceted instrumentals.
A special attraction this year is "Celtic-American Odyssey", a children's show by national recording artist Ray Owen who is making his festival debut. Based in Gettysburg, Owen is considered one of America's premiere festival performers and his repertoire includes a veritable feast of Irish songs and sea chanteys that provide an engaging musical journey celebrating the role of the Irish in the building of America. Rounding out the music slate are the thunderous sounds of Harrisburg's Lochiel Emerald Society Police and Fire Pipes and Drums who are making their second festival appearance along with The Spalpeens, a hard driving Irish band from Baltimore.
In addition to all-day musical performances, several other activities are offered at the festival. Over two dozen vendors will be selling different Irish goods plus food and beverage. Festival-goers can also participate in interactive music workshops on the fiddle and bodhran (Irish drum) and take in an Uilleann Pipes (Irish parlor pipes) demonstration.
Living history exhibits will include Civil War re-enactors from the 69th New York State Volunteers, which was part of the Union Army's famed Irish Brigade, plus the West Cork Flying Column who portray the Army of Irish Volunteers from the early twentieth century Anglo-Irish War that established the Irish Republic. Among the Irish-American organizations that will be present include the Adams County Ancient Order of Hibernians (AOH), Central Pennsylvania Ladies AOH, Irish Cultural Society and the Notre Dame Club of Gettysburg. The Potomac Valley Irish Wolfhound Club will also be on hand along with some of their four-legged friends.
For more information, visit the festival's website at www.adamscountyirishfestival.com The Adams County Irish Festival is produced and presented by the Irish Heritage Foundation of Gettysburg, an all-volunteer 501(c)(3) non-profit organization.
Weekend Entertainment Schedule
Inaugural Adams County Irish Festival Kick-Off Concert (Friday July 20, 2007 at the Wyndham Gettysburg Ballroom):
Adams County Irish Festival Main Stage (Saturday July 21, 2007 at Gettysburg Moose Park):
10:30-11:00am "Celtic-American Odyssey" Children's Show by Ray Owen
11:00-12:00pm Maidens IV
12:00-12:30pm Opening Ceremony - Bagpiper Rodney Owens, 69th New York State Volunteers, West Cork Flying Column, Lochiel Emerald Society Pipes and Drums
12:30-1:30pm Cormorant's Fancy
2:00-3:00pm Irishtown Road
3:30-4:30pm John Whelan
5:00-6:00pm Barleyjuice
6:30-7:30pm The Spalpeens