Gettysburg Stage launches one act plays
(10/17) "We're offering audiences a real variety package," says the non-profit theatre company's board president, Jim Krut. "We're calling it 'One Acts and Interludes – An Unusual Night at the Theatre.'"
The Friday performances will include the one-act plays "Tangled Up in Blue" by Brad Boesen and "Impromptu" by Tad Mosel. The Saturday offerings include both of those plays, plus the one-woman portrayal "Mamie Remembers Gettysburg," written and performed by Ruthmary McIlhenny of Gettysburg.
The interludes consist of short, off-beat, humorous or whimsical segments.
Audiences who arrive at least half an hour before the curtain opens will get an additional treat. Short recorded clips from several of Gettysburg Stage's past plays will be shown on stage.
"In some ways the production showcases talents of our regular ensemble," says Krut. "But it also opens the door for those who want to become involved in acting or stagecraft. Like every other homegrown theatre company, we operate with volunteers. The variety in this production encourages them to try their hand at theatre with minimal risk. Early arrivals will also get a taste of productions they may have missed."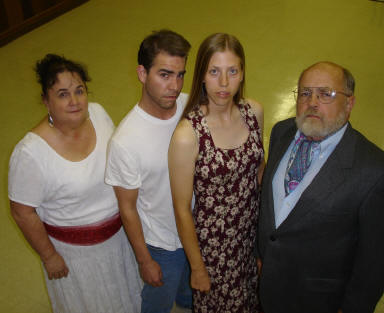 Four actors search for a script, and meaning to life, in Tad Mosel's one-act play "Impromptu." Gettysburg Stage actors Buff Wills, Ryyn Currey, Hilary Snesrud and David Hurlbert bring the comedy/drama to life starting November 2 at Keefauver Center, 157 Lefever Street in Gettysburg.
The play 'Impromptu,' performed as part of the Governor's Arts Awards celebration at the Majestic Theater in October, follows four actors thrust onto the stage without a script. "Tangled Up in Blue" was originally directed by Tom Rodgers and is a bittersweet look at friendship, love and dating in today's world.
McIlhenny's interpretation of "Mamie" shows the former First Lady as a symbol of her time. She recalls her first meeting with former President Ike Eisenhower, who she later married, the tribulations of marriage and their life together in Gettysburg. She has performed at the Eisenhower Historic Site, Harrisburg Area Community College and many other venues. This marks her first appearance with Gettysburg Stage.
The "Evening of One Acts and Interludes" runs Friday and Saturday evenings, November 2, 3, 9, 10, 16, 17.
The theatre is located at Keefauver Center, 157 Lefever Street in Gettysburg. Curtain is at 8 p.m., with a running time of under two hours. Ticket prices are $12, with discounts for seniors over 60 and students with identification.
Free adjacent parking is available and the smoke-free facility is accessible for those with special needs. Details on performance dates and times will be made available through the website www.gettysburgstage.org, or by calling the toll-free information and reservation line, 1-866-859-5192.
Members of the troupe are also working on a Top Secret production to benefit the Adams County Land Conservancy and its October 20 Road Rally through Adams County.