3rd Annual AOH St. Patrick's Day Party to Benefit Gettysburg Soup Kitchen
Hibernian Hunger Project to Help Feed Needy is Rooted in Irish Tradition and History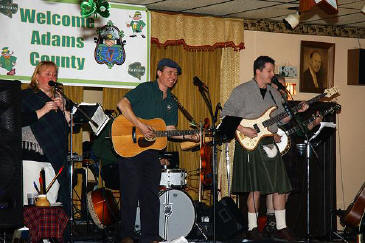 (3/1) Celebrate St. Patrick's Day while supporting a worthy cause by attending the Adams County Ancient Order of Hibernians (AOH) 3rd Annual St. Patrick's Day Party on Sunday March 19 from 5-10 pm at the Gettysburg VFW (369 E. Middle Street). The public is invited to this lively evening of Irish celebration and family fun that will benefit the interfaith Gettysburg Community Soup Kitchen.
The party begins with a full corned beef, ham and cabbage dinner catered by Spiritfields Pub and Fare of Gettysburg, followed by entertainment featuring fine traditional Irish music by the popular local band Irishtown Road along with special guest, Harrisburg area piper Rodney Owens. There will also be door prizes plus raffles of Irish goods.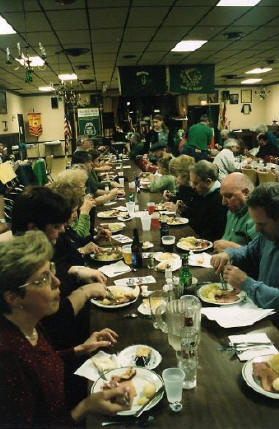 In partnership with VFW Post 15 of Gettysburg, the party is sponsored by the AOH Private Barney Devine Division 1 of Adams County as a Hibernian Hunger Project. "Last year, we tried the party as a hunger project for the first time and we were able to raise over $300 for the soup kitchen", notes Adams County AOH President Gary Ryan.
Through the Hibernian Hunger Project, the AOH seeks to maintain the traditions of Irish hospitality and generosity by feeding the needy while remembering the multitudes of Irish who died from starvation or who were forced to flee Ireland because of An Gorta Mor (The Great Hunger ) of 1845-1850.
The project was initiated by the Philadelphia AOH and Ladies AOH in 2000 and the program took off nationally in 2003. To further underscore the Irish Diaspora's connection to hunger and to counteract the negative stereotypes associated with pseudo-Irish displays like "green beer" and "plastic hats", many Hibernian Hunger Projects across the country take place around St. Patrick's Day. "As part of the Adams County AOH hunger project efforts, a portion of the proceeds from our St. Patrick's Day Party will be donated to the Gettysburg Community Soup Kitchen on our behalf by Fr. Bernie Pistone, pastor of St. Francis Xavier Church", stated Ryan.
Tickets are $15 (adults), $7 (youth aged 6-12) and children under age 6 are free. Tickets will not be sold at the door and must be purchased in advance by March 13 and are available at A & B Religious Shop in McSherrystown (11 N. Fifth St.; 632-7384), Gettysburg VFW Post 15 (334-4614), Spiritfields Pub (619 Baltimore St.; 334-9449), from any Adams County AOH member.
---
About the AOH: The AOH is a national Catholic Irish-American fraternal organization that was formed in New York City in 1836 with a motto of "Friendship, Unity and Christian Charity". It is the oldest Catholic lay organization in America and has divisions in 49 states. There are over 70 divisions in Pennsylvania and the first-ever AOH division in Adams County was chartered in January 2003. The division is named for Private Barney Devine, an Irish immigrant who settled near Fairfield and enlisted with the locally-recruited Company K of the 30th Pennsylvania Volunteer Infantry Regiment during the Civil War. In addition to promoting Irish heritage and culture, the AOH actively supports various charitable causes both at home and in Ireland. Local charitable activities undertaken by Pvt. Barney Devine Division 1 include the Hibernian Hunger Project, the Irish Cultural Society's perpetual care battlefield monument preservation program, supporting the Adams County Irish Festival and partnering with the York County AOH for a scholarship program at Delone Catholic High School. Catholic men over the age of 16 and of Irish birth or descent are eligible for membership in the AOH as are any Catholic priests regardless of nationality.