Baritone Wayne Hill Brings Music, Gettysburg! Audience to the Water's Edge
Versatile Singer to Feature Songs of Water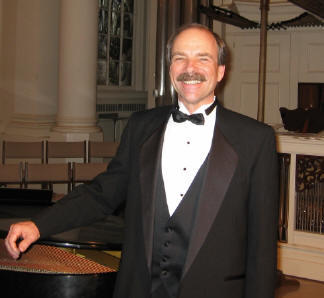 (4/20) Music, Gettysburg! presents baritone Wayne Hill in concert featuring songs and music related to water imagery on Sunday, April 24th at 4:00 p.m. in the chapel of the Lutheran Theological Seminary.
A accompanied by Michael Matsinko and Teresa Bowers, Hill will be singing songs related to the sea, to baptismal and biblical water, and folk songs, including texts written by poets such as Edgar Allen Poe, Edward MacDowell, and John Ireland. The baritone is also including hymns by Gettysburg's Herman G. Stuempfle Jr. and other well known hymns arranged by Aaron Copeland and R. Vaughan Williams.
Barritone Wayne Hill is one of the Gettysburg area's most talented and versatile voices. His vocal talent ranges from broadway to opera, having taken leading roles in regional musicals in ten different productions at the Harrisburg Opera Company. Other musical credits include singing in the St. James Lutheran Church Adult Choir for over twenty-seven years, professional soloist at Brown Memorial Church in Baltimore and many productions and concerts at "Music, Gettysburg!" Hill continues to appear in concert throughout the region and Europe. Hill and Howell is a graduate of Susquehanna University.
Accompanying Hill is Associate Professor of Music, Michael Matsinko, a member of the Gettysburg College faculty since 1975, where his responsibilities include teaching music history and literature and keyboard studies. A native of Nesquehoning, Pennsylvania, he received both his B.S. and M.M. degrees from West Chester University. Additional studies have been at the Westminster Choir College in Princeton, and the Peabody Conservatory in Baltimore. Matsinko has presented numerous solo recitals in cities throughout the United States and is active as an accompanist and chamber musician. He has appeared as a guest soloist with orchestras in Pennsylvania and Maryland, and has served as a guest conductor of various choral festivals.
TERESA BOWERS is Assistant Professor of Music at Gettysburg College where she teaches flute, double reeds and music appreciation. She holds the Doctor of Musical Arts degree in Choral Conducting from the University of Maryland. She received the B.M. degree from Susquehanna University and the M.M. in Woodwind Performance from The Ohio State University. Dr. Bowers is the artistic director of Bel Voce and conducts the Music Gettysburg! Festival Singers. She has been the artistic director of Cithara Women's Chorale and the Gettysburg Chorale.
Enjoy spending some time "at water's edge" at the Sunday afternoon concert, which is free and open to the public. The Seminary Chapel is on Seminary Ridge in Gettysburg. For more information about this and other concerts remaining in the 2004 Music, Gettysburg! schedule, please call 717-334-6286 ext 2100 or visit the web site at www.musicgettysburg.org.