Adams-York area Irish Band To Unveil New CD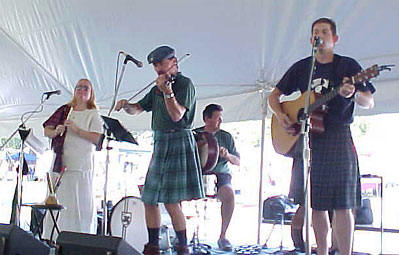 (5/18) Irishtown Road, purveyors of fine traditional Irish music, announce the release of their second music CD, The Road Home. The album, inspired by a recent journey to Ireland, is a mixture of traditionally-arranged original and traditional Irish music that showcases the instrumental versatility of the group.
The band is celebrating the release of The Road Home with a series of CD release parties commencing at O'Rorke's (44 Steinwehr Ave., Gettysburg) on Saturday May 21 from 1:00-4:00 pm, followed by another at Callahan's Pub at Oxford Inn Towne (7 Lincolnway West, New Oxford) on Saturday May 28 from 1:00-4:00pm and culminating in a live performance at the Harp and Fiddle (110 N. George St., York) on Saturday June 4 from 9:00pm-1:00am.
Based in the Adams-York County area and a fixture in the regional Celtic scene since 1997, Irishtown Road is comprised of siblings Brian Colgan (vocals, fiddle, guitar, flute and more), and Eileen Colgan Bowling (vocals, whistles, percussion); Joe Clark (bodhran, hammered dulcimer, various percussion and vocals), Rick Louthian (vocals, bass, guitar and mandolin) and new arrival Denny Seitz (banjo & vocals). The band is frequently joined by special guest Rodney Owens, a Harrisburg-area uilleann piper (Irish parlor pipes) who is also featured on The Road Home. The group took their name from the main road in Irishtown, the small eastern Adams County village where the Colgans' ancestors settled after emigrating from County Tyrone in the north of Ireland. "The Road Home is kind of a 'full-circle' in that it speaks of our journey to visit the townland where our great-grandfather came from," notes Brian Colgan who also produced the album, "but it also pays tribute to some of the colorful characters and magical places that we encountered while rambling around the countryside there."
The Road Home is Irishtown Road's first CD since their self-titled debut album in 2000. In addition to performances at area nightspots and private parties, Irishtown Road will also be featured at upcoming festivals including the Adams County Irish Festival in Gettysburg on July 16 and the McLain Celtic Festival in Carlisle on September 3. For more information, visit their website at www.irishtownroad.com.