Irish Music Legend To Headline Sixth Annual Adams County Irish Festival Benefit at Gettysburg Moose Park on Saturday July 16
(7/1) The Sixth Annual Adams County Irish Festival will be held rain or shine on Saturday July 16, 2005 in the shady grove of the Gettysburg Moose Park. The gate opens at 10:30 AM and the festival runs until 8:00 PM. The park is located at 100 Moose Road which is just off of US Route 30 in Straban Township about a mile and a half east of the US 15 interchange near Gettysburg, PA. Admission is $8 for adults and children under 12 are free.
With a full day of Irish music, dancers, food, merchandise and more, the festival offers wholesome family fun while primarily benefiting the Children's Friendship Project for Northern Ireland (CFPNI). CFPNI is a peace and friendship building program that selects and pairs Catholic and Protestant teens from Northern Ireland to pursue a friendship between themselves, their families and friends. The Festival Organizing Committee is again partnering with Moose Lodge 1526 of Gettysburg to fund CFPNI-paired teens to spend time with host families in the U.S. where they can pursue friendship and understanding in a neutral environment while focusing on their similarities rather than differences. A long-term goal of the festival is to also fund the eventual establishment of a national Irish history museum and library in the Gettysburg area. This year's festival is sponsored in part by Environmentally Safe Products, Conewago Enterprises, Gettysburg Rental Center and McSherrystown Home Association.
Southcentral Pennsylvania's oldest and largest Irish festival drew a crowd of over two thousand people last year who enjoyed local, regional and internationally known musicians, Irish step dancers, Irish food, music workshops, living history exhibits plus art, craft and gift vendors. A big turnout is anticipated again for this year as the festival boasts another impressive line-up. Direct from Ireland and back by popular demand, this year's festival headliner is Derek Warfield of the legendary Wolfe Tones accompanied by his Sons of Erin band.
Born and bred in Dublin, singer, songwriter and noted historian Derek Warfield was a founding member and leader of the legendary Irish folkband, the Wolfe Tones. For 42 years he has been the voice behind the stirring introductions and author of many famous ballads that have endeared him to countless thousands of fans all over the world. He has written and recorded over 60 songs and ballads. Through his songs, music and lectures, Warfield weaves history together with song to remind the Irish at home and abroad of their debt to patriots of past generations. Warfield is also known as the bard of the American Civil War. Backed by the Sons of Erin band, his recent work focused on the Civil War which involved half a million Irishmen on both sides. Warfield has released a total of eight solo albums since the mid-nineties. His latest album, Songs for the Bhoys, is a two-volume collection of all-time great songs and anthems dedicated to the Glasgow Celtic Football (soccer) Club which is a symbol of Irish identity throughout the world by virtue of its large Irish population living there.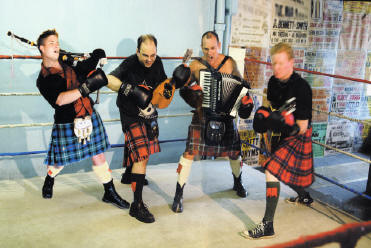 The festival also features Barleyjuice, a high energy, kilt-clad band from the Philadelphia area who returns after their well-received debut last year. Also appearing is Harrisburg area uilleann piper Rodney Owens, a fixture at every festival to date and the Adams-York area's standard-bearer of Irish music, Irishtown Road, who will be appearing for the fifth time as they showcase their new album, The Road Home. Rounding out the music slate are the thunderous sounds of the Baltimore Police Emerald Society Pipes and Drums who are making their second festival appearance plus newcomers O' Be JoyFull and Cormorant's Fancy, both of which have ties to the Gettysburg area. Irish step dancing is also on tap as the Harrisburg-based Lena McGinley Ceili Dancers appear for the second consecutive year.
In addition to music and dance performances, several other activities are being offered at the festival. A lecture by local historian Debra Sandoe McCauslin titled, "Adams County's Mary Jemison, A French and Indian War Survivor", will chronicle the story of a young Irish immigrant girl who was abducted by Seneca Indians in Buchanan Valley in 1758. Festival-goers can also participate in interactive music workshops on uilleann pipes (Irish parlor pipes), button accordion, penny whistle and bodhran. Living history exhibits will include Civil War re-enactors from the 69th New York State Volunteers which was part of the Union Army's Irish Brigade plus the West Cork Flying Column who portray the Army of Irish Volunteers from the early twentieth century Anglo-Irish War that established the Irish Republic. The Potomac Valley Irish Wolfhound Club will also be on hand along with some of their four-legged friends.
Main Stage Entertainment Schedule:
11:00-11:45am "Adams County's Mary Jemison, A French and Indian War Survivor", lecture by Debra McCauslin
12:00-12:30pm Opening Ceremony - Rodney Owens; Baltimore Police Emerald Society Pipes and Drums
12:30-1:30pm O' Be JoyFull
2:00-3:00pm Irishtown Road
3:00-3:30pm Lena McGinley Ceili Dancers
4:00-5:00pm Barleyjuice
5:30-6:30pm Derek Warfield & The Sons of Erin
7:00-8:00pm Cormorant's Fancy
For more information, visit the festival's website at www.adamscountyirishfestival.com. The Adams County Irish Festival is an all-volunteer 501(c)(3) non-profit organization.