Boston Shawm & Sackbut Ensemble Returns to Music, Gettysburg!
For Choral Vespers for Easter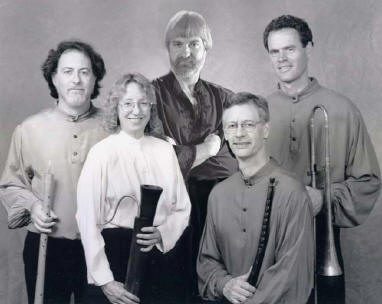 (3/31) The Boston Shawm & Sackbut Ensemble will bring the sounds of early instrumental music in their next performance for Music Gettysburg! on Sunday April 10th, at 7:30 p.m. at the chapel of the Lutheran Theological Seminary.
The Renaissance band made up of early woodwinds and brass instruments, will join the Schola Cantorum of Gettysburg for a festive choral vespers concert for the Easter season. The choral vespers will follow the order of a typical 17th century evening prayer service, featuring music of Johann Schein, Andrea Gabrieli, Michael Praetorius and Heinrich Schutz.
The shawm and sackbut musicians were often employed by cities and towns in the Middle ages and renaissance to enliven public events, making festive occasions all the more distinctive.
Music, Gettysburg! welcomes the return of the ensemble created in 1981 that has won consistent praise for its "wizardry and versatility" (Boston Globe) and "lyrical and unpretentious music making" (Boston Herald) ever since. Throughout the Western world, all during the Middle Ages and Renaissance, musicians were employed by cities, towns, courts and cathedrals to enliven public events, to play for processions and dancing, to increase devotion. The members of the Boston Shawm & Sackbut Ensemble, Marilyn Boenau, Dan Stillman, Douglas Kirk, Mack Ramsey and Tom Zajac, bring that festive and important tradition to life again everywhere they play.
In addition to the ensemble of early instrumentation, the concert will feature the splendid choral sounds of the Schola Cantorum of Gettysburg, performing several 17th Century choral motets by Praetorius, Schein, a chorale of Heinrich Finck, and a Magnificat by Heinrich Schutz. The Schola Cantorum is a 30 voice choir under the direction of its founder, Dr. Stephen Folkemer, featuring voices from Central Pennsylvania, Maryland, and Virginia.
This rare opportunity to hear the ensemble will give the audience a glimpse of the shawms, instruments that predated the oboe, the sackbut, evolving into the slide trumpet and trombone and the dulzians, an ancestor to the bassoon. The versatile ensemble also utilizes a set of prized Renaissance recorders to round out its unique blends and lively sound.
Enjoy this choral musical treat at the Sunday evening concert, which is free and open to the public. The Seminary Chapel is on Seminary Ridge in Gettysburg. For more information about this and other concerts in the 2004-2005 Music, Gettysburg! schedule, please call 717-334-6286 ext 2100 or visit the Music, Gettysburg! web site: www.musicgettysburg.org.