New environmental group - Friends of Frederick County hold kickoff meeting
(12/12/2004) Friends of Frederick County, a new environmental group advocating for quality of life changes to development initiatives locally, heard from a distinguished group of local legislative leaders at their kickoff party on Wednesday, December 8th, 7 PM, at the C. Burr Artz Library Community Room.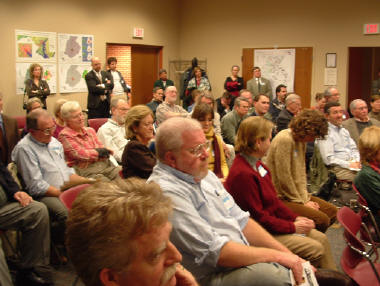 Frederick County Commissioner Jan Gardner addressed the crowd first, calling Friends a true grassroots effort, "I'm excited to see a group this large come out to get active. Your priorities are important. We are under considerable pressure to grow. Farmland preservation is important...the goal is 100,000 acres in the county. State funding has been eliminated for farmland preservation programs."
Frederick County Commissioner John 'Lennie' Thompson spoke next, saying, "Your voice makes a difference. If half this number of people showed up and attended our land use forums, things would be different."
"We are subsidizing developers." he continued. "Not one drop of the water project is for current residents. The county will go into debt by $75 Million dollars if this project goes through."
Delegate Patrick Hogan represented his views on Maryland state matters such as the budget cuts in Program Open Space funding and 'intelligent development.'.
Chesapeake Bay Foundation Advocacy & Outreach Manager, Terry Cummings, discussed the efforts of environmental organizations state-wide to work for restoration of funding for Program Open Space.
Interstate Commission on the Potomac River Basin Associate Director of Water Resources, Julie Kiang spoke about the recent signing by Frederick City and County of the Potomac River Basin Drinking Water Source Protection Partnership agreement.
"Friends developed to speak out for the issues that have too long been left by the wayside, public matters that are supported by the majority of residents, like managing how our development impacts the environment. We ask, what will Frederick County look like in twenty five more years when forecasts are for a 60% increase in municipal growth? Friends is about public advocacy. We will stand for the public good, which is both growth and a focus on better stewardship of our natural resources.", said Friends Vice Chairman, Jack Lynch.
Friends of Frederick County is a non-profit, non-partisan network of individuals, communities and organizations committed to maintaining and improving the quality of life in Frederick County, Maryland.
For more information online: http://www.friendsoffrederickcounty.org