No imminent threat posed by wall collapse on Lake May dam embankment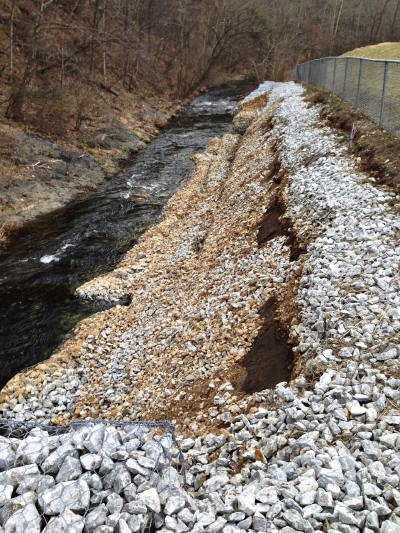 (3/13) Engineers consulted by Carroll Valley Borough are saying that the collapse of a structure designed to protect a dam embankment at Lake May poses "no imminent threat" to the safety of nearby residents.
Borough Manager David Hazlett said the collapse was reported March 11 by a resident accessing the lake for recreational purposes. The borough owns the land adjoining the lake on which the dam complex is located.
Hazlett briefed the borough Council at their March 12 meeting regarding the status of the incident.
Specifically, about one-third of a gabion wall at Lake May collapsed into Toms Creek. Gabion walls consist of cells of wire "baskets" which contain rock fragments, and are generally used to control erosion of embankments located near streams or other water bodies.
In this case, the gabion wall, installed more than a decade and a half ago, protected an embankment that served as part of the Lake May water impound. The embankment itself, while exposed in part, and the dam, have thus far not been affected by the collapse.
Hazlett stated the borough engineering firm, KPI, Gettysburg, and a geotechnical consultant felt the collapse posed no immediate threat to the "handful of homes" around the lake, but had to be repaired.
The engineers suggested, "Keep an eye on it and make sure nothing changes or gets any worse" while awaiting the fix, the borough manager stated.
Hazlett said the engineers have not determined a cause, but that may be determined as the repairs get underway.
The borough manager said Ski Liberty may be obligated to make the repairs as part of an agreement entered into last year with the borough. The borough agreed to allow Ski to use a limited withdrawal of Lake May water as needed in exchange for the upkeep of the dam complex. "According to the agreement we approved last year, they (Ski Liberty) would be contractually obligated to make the repairs," Hazlett stated.
Public access to the borough property had been temporarily suspended "until we can get area secured," Hazlett stated.
A cost estimate for the repair has not been determined as engineers are continuing to access the repair.
Read other articles about Fairfield