Hamiltonban cuts ribbon on $1.2 million facility
(9/15) Hamiltonban Township supervisors and other members of the township staff gathered on September 14 for a ribbon cutting ceremony marking the official opening of the new municipal maintenance facility off Carrolls Tract Road.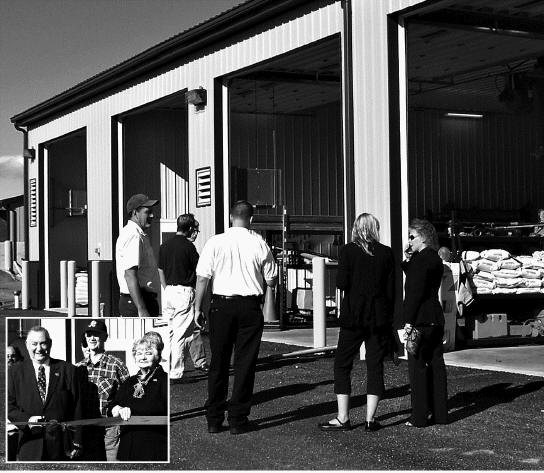 The new facility, consisting of a fueling station, salt sheds, and township vehicle bays, represents the first phase of an envisioned multi-phase effort to consolidate all of the township services, including a recreation park and township offices, to one central location.
Township Supervisor Chairman Robert L. Gordon said the ribbon cutting ceremony represented "a very special day in the history of Hamiltonban Township," by virtue of the official completion of the first phase of several that will culminate in the new municipal complex.
The maintenance facility cost around $1.5 million, according to township Supervisor Chairman Robert L. Gordon.
About a third of the $1.5 million was supported by a Redevelopment Assistance Capital Program (RACP) grant obtained by the township with the assistance of State Senator Richard Alloway and State Representative Dan Moul.
Additional money was received from the American Recovery and Revitalization Stimulus Allocation funding, which allowed for a 45 percent rebate on any related loan interest payments.
The township board of supervisors began planning for the new complex began seven years ago, which a new maintenance facility high on the priority list.
"Our old maintenance facility (then located on Bull Frog Road) had outlived its usefulness years ago and was in very dilapidated condition," Gordon stated.
Regarding the move of the maintenance department to the new facility from the old, Supervisors Vice Chairman Coleen N. Reamer said, "I think itís really great the guys have equipment to work with and work on without having to worry about a wall collapsing in."
The overall campus project, including the new maintenance facility, was made possible through a land exchange with Valley Quarry, who traded the town ten acres of land the quarry owned adjacent to the existing town ship offices for four acres of municipal land on Bull Frog Road upon which sat the dilapidated maintenance structures.
Phase two of the campus project will be a municipal park which will be located next to the new maintenance building.
Phases three and four will, at some unspecified timeframe in the future, include the construction of a new town hall and police office.
Read other articles about Fairfield