Sign dedication, 150th planning continues
(9/23) The Fairfield Borough Civil War Sesquicentennial Committee will dedicate a "Civil War Trails" wayside in the borough on October 11 commemorating the community's involvement in the American Civil War.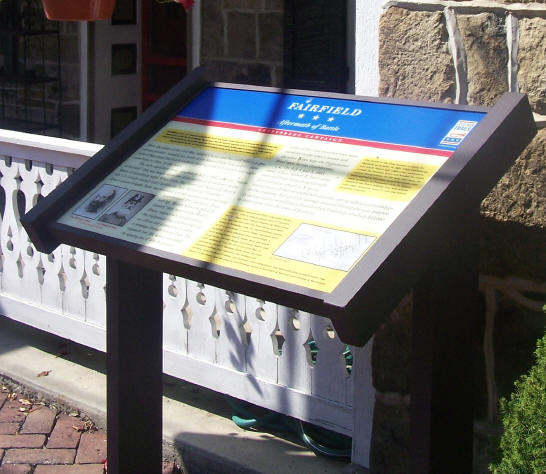 The event will be held at the Fairfield Inn, 15 West Main Street, at 1 p.m., while the sign has already been installed and awaits its formal dedication.
The sign dedication will coincide with the commemoration of Confederate Cavalry General James Ewell Brown "Jeb" Stuart's raid through South Central Pennsylvania and the abduction of Fairfield Postmaster John B. Paxton and others.
Introductory remarks at the dedication in October will be made by Jack Inskip, chairman of the borough Civil War Sesquicentennial Committee, Sal Chandon, owner and chef at The Historic Fairfield Inn, and Fairfield Mayor Bob Stanley.
At the conclusion of the program, light refreshments will be provided courtesy of the Fairfield Inn.
The sesquicentennial committee has also begun to finalize plans for the 150th anniversary of the Battle of Fairfield, which occurred July 3, 1863, as the Battle of Gettysburg continued to rage only eight miles away.
The borough event will be held on June 15. Tours will be offered on the Fairfield battle field, and will cost $35.00, which includes a complimentary Fairfield book and commemorative medallion.
Two tours are scheduled, the first taking place at 9 a.m., and the second at 1 p.m. The tours will be approximately two and a half hours in length, with pick-up and drop-off occurring at Fairfield High School.
The Battle of Fairfield took place after Confederate General Robert E. Lee ordered several Virginia cavalry units to secure passage of Hagerstown Road, leading to their arrival in Fairfield on a collision course with the 6th U.S. Cavalry.
The U.S. Cavalry was in the process of reconnoitering to verify reports that Confederate wagon trains had been reported in-motion in the area.
The battle resulted in a decisive Confederate victory just outside the village, with Union forces suffering 232 casualties (more than 50 percent of their forces). Confederate casualties consisted of eight killed, 21 wounded, and five missing.
The committee is continuing to work on the details for the event.
Read other articles about Fairfield