Thousands attend Carroll Valley 'Fourth'
(7/5) More than an estimated 2,000 attendees flocked to Carroll Valley's annual Fourth of July festivities, with more than 2,500 on-hand to view the evening's fire works display.
The 8th Annual Fourth of July Celebration and Community Picnic was held July 4 at the Carroll Valley Commons.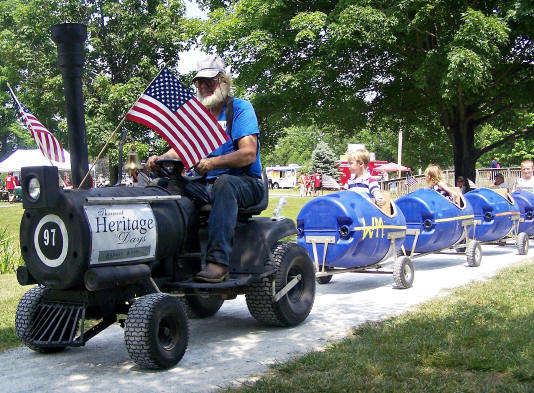 The event was organized by the July 4 Planning Committee, a body that is independent of the Carroll Valley Borough government, but is supported by the borough through the use of resources, such as preparing the Commons for the event.
Borough Secretary Gayle Marthers said, "There was very good turn out. I'd say we had a couple of thousand."
The crowds weathered heat in the mid-90s and humidity to enjoy the rides, entertainment and food offered during the event.
Two newly featured highlights of this year's event was a giant inflatable aircraft carrier and jet, which served as an obstacle course and sliding board, and a jungle-themed slide and bounce area. Both were sponsored by Comcast, the Fairfield AmVets and School Safaris.
"We had the four bands that performed on the main stage," Marthers noted. Also held was a sizeable vintage and antique auto show.
Another hit with the children attending the event was the Train Ride Through History, a "steam engine" that pulled a train of barrel-like passenger cars through a portion of the park. The train was sponsored by SGI (formerly ISP).
The popular hay ride was provided by William McCleaf, Jr., a neighboring farmer, who also made some of his fields available for event parking.
The event also featured an array of food vendors, crafters, hairdressers, and other non-food venders.
One of the event highlights was the recognition of the 12-and-under and 8-and-under little league teams, who "made it to the state qualifiers," the borough secretary stated. Each member of both teams was presented with a plaque by Mayor Ron Harris.
But the Fourth of July fire works display, launched from Liberty Mountain during the evening hours attracted more than 2,5000 spectators.
"Various area parking resources were reported full," Marthers stated. Some parked as far away as Fairfield Borough to view the aerial display.
"For the heat…(and) it was very hot…we had a huge turnout (at the event overall)," Marthers said. "It was very nice."
Read other articles about Fairfield