From the Desk of Carroll Valley Mayor Ron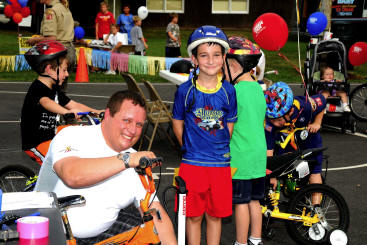 (9/1) The 2011 National Night Out event held at Carroll Valley Commons was a great success. The purpose was to strengthen the relationship between the citizens and first responders. Over 400 adults and children were in attendance. The Good Samaritan Lodge #336, Free and Accepted Masons of Pennsylvania of Gettysburg fingerprinted and videoed 83 children as part of the Child Identification Program. Thanks to the Masons and all the agencies who participated in the event. Specials thanks goes to our Carroll Valley Borough Police Secretary, Jo Ann Myers, our Police Chief Richard L. Hileman II, and the Carroll Valley Municipal Services.
At the last Borough Council meeting, I had the pleasure of awarding a young resident by the name of Ms. Brianna Harrison a Certificate of Appreciation in recognition of valuable service to the Carroll Valley community. When she noticed a mulch fire smoldering beside the Carroll Valley Pavilion chimney, she quickly alerted her mother to call 911. The award was given to express the Borough's appreciation for her quick action that prevented a much larger and costly fire. Thank you Brianna.
Living in the country brings us closer to our local animal friends. Because of these "close encounters" with our local bear population, I wish to share with you some information that may be helpful. The black bear population emanating from around the Michaux State Forest region is undoubtedly growing and expanding. When a bear sighting occurs outside of that area, it will usually be a 1.5 to 2 year old male cut loose by its mother, and venturing out to find a new territory. When this occurs, it will normally and eventually find its way back to the mountains. In the meantime, the bear may hang around a specific area for a short period of time, especially, if there's an easy food source. An important thing to keep in mind is that bears, although capable of being very dangerous, are very rarely aggressive towards humans, especially if left alone or with an escape route. As such, it is unlawful for anyone to kill or attempt to kill a bear unless it can be clearly articulated that it is indeed a case of self-defense. Simply being afraid of a bear that won't immediately leave an area does not constitute justification.
Advice for people who see a bear hanging around, aside from the common sense act of not trying to get too close to one, centers around food sources. Keep garbage secured properly, hang bird feeders out of the reach of bears, don't leave domestic animal food in a bowl outside, and essentially, take away or secure any other food items for a bear, which includes just about anything edible to man or beast (bears are opportunistic omnivores, and will eat just about anything). If you have any questions about bears or the bear won't leave, you should call the Pennsylvania Game Commission at (814) 643-1831.
I was informed that the Boy Scouts from Fairfield Boy Scout Troop 76 just got back from their first trip to the Philmont Scout Ranch in Cimarron, New Mexico. From what I have been told, Philmont is known as "Scouting Paradise". The trip involved seven boys and one adult leader from Fairfield joining up with five other participants from York to form what Philmont calls a "crew." The crew spent 12 days at the 215 square mile ranch, completing a 78-mile trek by backpacking from camp to camp over mountains and rugged terrain in the backcountry from June 21st to 3 July 3rd. The boys set up camp each night and prepared meals for the full crew. The camps had different activities such as rock climbing, shotgun shooting, team events, farming, and other activities. The crew also committed several hours to a conservation project by working on a new trail.
The highlight of the trip for many was the summit hike up Baldy Mountain at an altitude of 12,500 feet. Hiking at high altitudes was the most challenging aspect of the trip, as both lower oxygen levels and rapid dehydration become real concerns. The dry conditions in this northeastern section of New Mexico resulted in several dry camps where the boys had to purify water from creeks or plan to carry extra amounts. The crew completed the trek together; no easy feat after one of the boys hurt his leg. The crew adjusted the way they hiked to ensure the line stayed together, and they proudly walked through the gate together back at base camp. Besides the renowned Arrowhead Award, everyone on the crew earned The Duty to God and the Wilderness Pledge Award by completing certain requirements along the trek. The 50-Miler award will be earned after completing 3 more hours of conservation work here in our community.
The Fairfield contingent from Troop 76 was comprised of Jacob Arbutus, Kevin Aughinbaugh, Matthew Benjamin, Andrew Blinn, Mike Hannas, Josh Hill, and Nick Sanders along with Assistant Scoutmaster Gene Blinn. Speaking for the contingent, Hannas offered, "The hard work put into training paid off in a challenging and totally awesome experience. We'd do it again in a heartbeat." Participants from York were Troop 150 Scoutmaster Todd Rutter, Adam Rutter, Kyle Rutter, Jan Wagner, and Nathan Wagner. The Fairfield Boy Scout Troop 76 presently has 26 active Scouts and features a robust program of camping, backpacking, high adventure, rank advancement, and community service activities. For further information about the Troop, contact the Scoutmaster Jay Stroup at 642-5195.
School has started which means school buses will be on the road again. Let us partner with the parents, teachers, administrators, and transportation personnel to keep our young residents safe when they are being transported to and from school. How do we do that? Follow the law. According to the Pennsylvania's School Bus Stopping Law, when you meet or overtake a stopped school bus with red signal lights flashing and stop arm extended you must stop. When you approach an intersection where a school bus is stopped with red signal lights flashing and stop arm extended, you must stop. You must stop at least 10 feet away from the school bus. You must wait until the red lights have stopped flashing and the stop arm has been withdrawn before moving. And most important, do not move until the children have reached a place of safety.
Borough meetings to be held in September are: Planning Commission (Sept 6th), Public Safety Committee (Sept 12th), Council Borough (Sept 13th), and Parks/Recreation (Sept 28th). Remember Carroll Valley's Farmer's Market is on Thursdays in the Ranch Section from 2:00 to 7:00 pm. Please reduce your driving speed when you are in the Valley. If you have any questions call me at (301) 606-2021 or email at mayor@carrollvalley.org.
Read other articles about Fairfield