Apples rule Adams County!
(10/1) Thousands attended the 25th Annual Pippenfest Festival held in Fairfield September 24 and 25, as organizers prepare for the annual National Apple Harvest Festival to be held October 1 and 2 and October 8 and 9 in Arendtsville.
Pippenfest, named after the pippen (also spelled pippin) apple, is held annually by Fairfield Borough during the last weekend of September, and is organized by the Fairfield Borough Pippenfest Committee.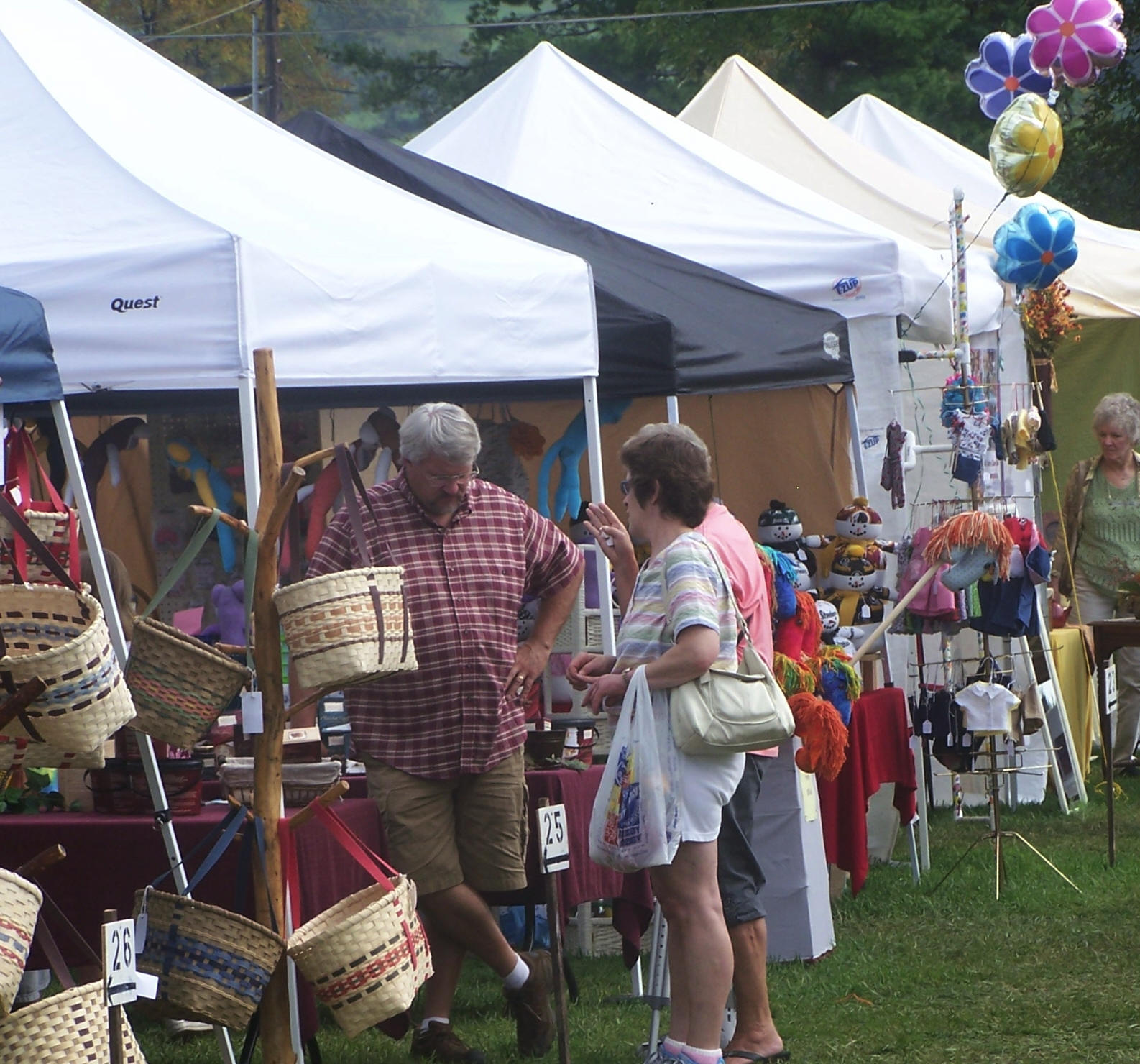 Pippenfest attendees explore some of the several dozen arts and craft vendors
displaying their wares at the September 24 and 25 event in Fairfield.
This yearís event represented the first rain-free weekend the event has experienced for several years, although those attending the event on Sunday, September 25, had to deal with a sweltering humidity level as potential rain skirted the area.
Although current economics may have somewhat diminished anticipated attendee numbers and vendor sales expectations, Fairfield Borough Mayor Robert Stanley said he was very pleased with the end result.
"It looks like itís a good event," Stanley stated on Sunday. "We got lucky with weather." He also noted that the Pippenfest Committee and volunteers "worked hard" to make the event a success.
Featured during Pippenfest weekend this year were yard sales, arts, crafts and antiques, music, automobile and tractor shows, raffles and numerous food vendors offering a wide array of treats and meals.
Not all of the participating vendors experienced a profitable weekend. Sleeping Beauties owners Michael J. And Susan Colella stated they had few sales during the weekend.
However, the Colellas noted their products "were meant more for an art show than a craft show," although they noted the event attendees did like seeing their artwork.
But as some may not have faired as well as expected, others were "scoping out" the event for possible participation in the future, including Adam and Michelle Yalch, co-owners of the recently founded Admirellas, Gettysburg, who specialize in decorated gift bags, picture frames, baskets and other craft-related products.
Final statistics involved in this years event, including attendance and participants, are generally not available until compiled by the Pippenfest Committee.
National Apple Harvest Festival, established in the 1940s, will be held October 1 and 2 and October 8 and 9 at the South Mountain Fairgrounds, 615 Narrows Road, Arendtsville, located ten miles northwest of Gettysburg on Route 234.
Event coordinators expect hundreds of arts and crafts dealers, along with arts and crafts demonstrations, contests, food stands, and entertainment.
For additional information regarding this event, visit the National Apple Harvest Festival web site at appleharvest.com.
Read other articles about Fairfield