Fairfield Holiday Home Tour Features Historic and Modern Homes
In the beautiful rural valley of Liberty Township, Adams County, Pa., just north of Emmitsburg, Md., seven historic and modern homes will be decked out in seasonal finery on Sunday, Dec. 14, from noon to 6 p.m.
Among the homes and buildings on tour will be: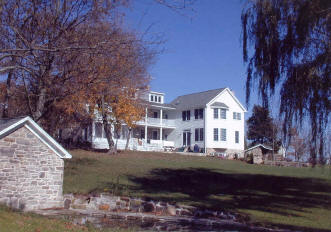 The Pecher Farm, (pictured to the right) a circa 1800 stone farmhouse that has been lovingly renovated and extended to provide comfortable 21st century living.
A country Cape Cod home, strategically located to overlook the valley below. The open interior of this beautiful modern home accommodates living space as well as a small family business.
A reproduction New England-style saltbox, charmingly decorated with country arts and crafts. Wide board floors, hand stenciling and a large, central walk-in fireplace all help to create an atmosphere of early America.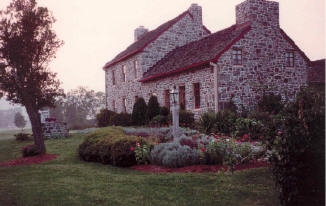 The Windborne Farm, (pictured to the right) is a 175-acre working sheep farm that was the home of Abraham Krise in the early 1800s. The Pennsylvania German stone farmhouse was reconstructed in 1989 using the original stones and floor plan.
Our Lady of Peace Retreat Center, a converted post and beam barn recently expanded by Sue Tigy to accommodate retreat groups of up to 40 people. It contains two chapels, a library/conference room, a dining hall, kitchen and bedrooms. Situated on a gently rolling hill, the center overlooks a lovely pond.
Deja View, a passive solar home built in the early 1980s for only $15,000. The home of Max Bramel and Nanette and Maylou Hatzes, Deja View is constructed with beams from the family barn and includes a wraparound deck as well as Nanette's art and photography studio. One notable feature is the amazing sculptural stone wall built by local artist and stone mason Randy Bollinger.
McKesson's black smythe shoppe and croft, (pictured to the right) is an 18th century-style log blacksmith shop and small log house typical of buildings that early Scottish settlers in the valley built on their plantations. The owners will be in period dress and will decorate the croft in period style.
Tickets are $25 in advance or $30 at homes on the day of the tour. Included are refreshments as well as a jazz duo playing at the Pecher Farm from 4:30 to 6 p.m.
For tickets or information on the Dec. 14 Holiday Home Tour, call 717-642-5815 or -5436. Tickets are also on sale locally at The Coffee Cottage in Fairfield, Pa.; Briggs Associates Realty and Errands Plus in Emmitsburg, Md.; and Gallery 30 in Gettysburg, Pa.
Proceeds benefit the Save Our Liberty legal fund. Save Our Liberty is a grassroots citizens group working for responsible development in southern Adams County, Pa. For information on the group, contact saveourliberty@direcway.com.]
Read other articles related to Fairfield