Mason Dixon welcome center set to reopen this summer
Bethany Rodgers
News-Post Staff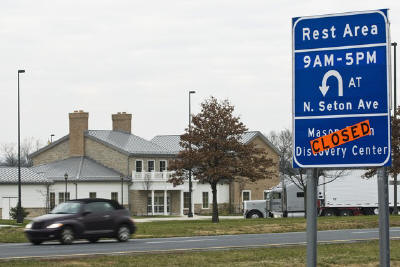 (2/4) The state hopes to re-open a welcome center on U.S. 15 in Emmitsburg this summer, about a year before the route will likely see a flood of travelers for the 150th anniversary of the battle of Gettysburg.--
During a Friday morning meeting, a local tourism official briefed the Frederick County legislative delegation about plans to get the Mason Dixon Discovery center up and running by Memorial Day weekend.
With significant Civil War observances on the horizon, the center's opening could help the county and state take advantage of a great opportunity, Sen. David Brinkley said in a phone interview following the meeting.
"You've got a gem coming up," Brinkley said of the crowds likely to pass through the county. "Let's get in as a part of that."
State employees and volunteers will staff the center, said Hannah Byron, the state's assistant secretary of tourism, film and the arts. It will likely be open to travelers four to five days a week, from 8:30 a.m. to 4:30 p.m., although the schedule is still being worked out, she said.
The state shuttered many of its welcome centers a couple of years ago, after the recession forced budget cuts, said John Fieseler, executive director of the Tourism Council of Frederick County.
The Mason Dixon Discovery building, formerly the Emmitsburg Welcome Center, closed in November 2009, three years after it had reopened following a $5.3 million makeover and renaming.
The renovated center had Wi-Fi capability and televisions for up-to-date news, weather and road conditions. It included an outdoor plaza and information hub designed to resemble a mid-19thcentury farmhouse.
The state now runs two centers along I-95 and two more on I-70, said Fieseler, who presented the information to the legislative delegation Friday.
Byron said more centers are now run by counties or through public-private partnerships.
To revive the Emmitsburg center, the state is partnering with the private sector and streamlining services rather than allocating additional dollars, said Byron. She declined to comment on the details of the arrangement, because it is still in development.
Brinkley and other officials have repeatedly lobbied the state to bring back the U.S. 15 center. He said he thinks the Civil War anniversary helped persuade the state to restart operations.
Fieseler told the county's delegation Friday that a projected 4 million people will converge on Gettysburg in 2013 to mark 150 years since the Civil War battle in the town.
A welcome center gives the county a good opportunity to sell visitors on local attractions, Fieseler said. They are already in Frederick County; the center could interest them in staying longer.
"It's upselling," he said. "It's kind of like saying, 'You want fries with that?'"
Read other news stories related to the Emmitsburg