'Scotty's Ride' fundraiser nets $11,000
(10/14) An annual motorcycle poker run, originally established in Emmitsburg to aid a family whose son was suffering from a terminal illness, was held September 29, and continues to attract no shortage of participants.
"Scotty's Ride" was established in 2006 through the efforts of Kerry and Valerie Shorb, Harney Road, Frederick County, to raise funds to help cover for medical expenses incurred by their great nephew, 4-year-old Scott Harbaugh.
Harbaugh, the son of Shawn and Stephanie Harbaugh, Fairfield, had been diagnosed with an "inoperable brain tumor which was labeled as a Grade 11 Astrocytoma," but after Harbaugh's passing, the Shorbs continued to hold the event for the benefit of other families with children with life-threatening health conditions who are in need of financial assistance.
The event, sponsored by My Fathers Footsteps and American Legion Post 121, is operated as a "poker run" generally for the motorcycles community.
A "poker run" is basically a road rally where various stops are maintained along the way where participants draw a card. The individual with the best poker hand at the end of the run is the winner.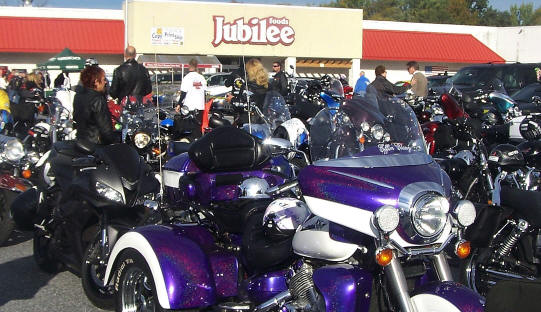 Scotty's Ride traverses through about 110 scenic miles of travel, launching from the parking lot of the Jubilee Foods in Emmitsburg, and ending at the Shorbs' home on Harney Road, where the last card is drawn, accompanied by entertainment and lots of food for those attending.
Jubilee Foods has offered its parking lot as a rallying point for the kick-off of the event every year since its inception in 2006, according to Kerry Shorb. "Jubilee has been great (at supporting the event)," Kerry Shorb said. "Everyone has been great. It gets better and better every year."
More than 225 motorcyclists participated in this year's event, Shorb said, and about 350 individuals attended the celebration and barbeque as the ride culminated at the Shorbs' house. This year, the barbeque was attended by several recipients of money raised in the past. "We had three of the recipients this year at our home," Shord stated. "That was a huge thing."
September 29's "poker run" raised $11,000, and resulted in the effort reaching having raised a total of $50,000 since its inception. "That was quite a milestone for us," he said.
Needy families are identified usually by someone approaching the Shorbs. "People let us know tell their stories," Shorb said. "We then have an interview with the parents and find out what the illness is and how they are doing."
"We don't pay (money raised) directly to the family," he stated. "We pay through a fund set-up for them, or one that already exists. That way we know the funds are going the way they should."
The Shorbs, who were thinking about handing over the event to new management last year, have decided to continue it themselves. We 're are back handling the event." he said.
For additional information on Scotty's Ride, contact Kerry or Valerie Shorb at My Fathers Footsteps at 301-447-6600, or at their home at 301-447-3260, or on their cell phone at 301-471-2045, or by visiting the event web site (which is still be updated) at scottysride.org.
Read other news stories related to the Emmitsburg