Ridge Fest a delicious success
(10/14) Several hundred individuals attended the two-day Ridge Fest in Rocky Ridge during the weekend of October 13 and 14.
The event, held in Mount Tabor Park, was co-sponsored by the Mount Tabor Church and the Rocky Ridge Volunteer Fire Company.
More than a dozen flea market vendors set up in the park on Saturday, October 13, with a lesser number making an appearance on a chilly and overcast Sunday, offering wares ranging from tools to baseball cards, and just about everything in between.
Saturday's weather provided the perfect setting for the event, with clear skies and mild temperatures.
Saturday was also the day Richard Dinderman and Norman Poole decided to show off their homemade apple butter skills, setting up several vats to demonstrate how the apples were once processed into a typical rural, harvest-time product.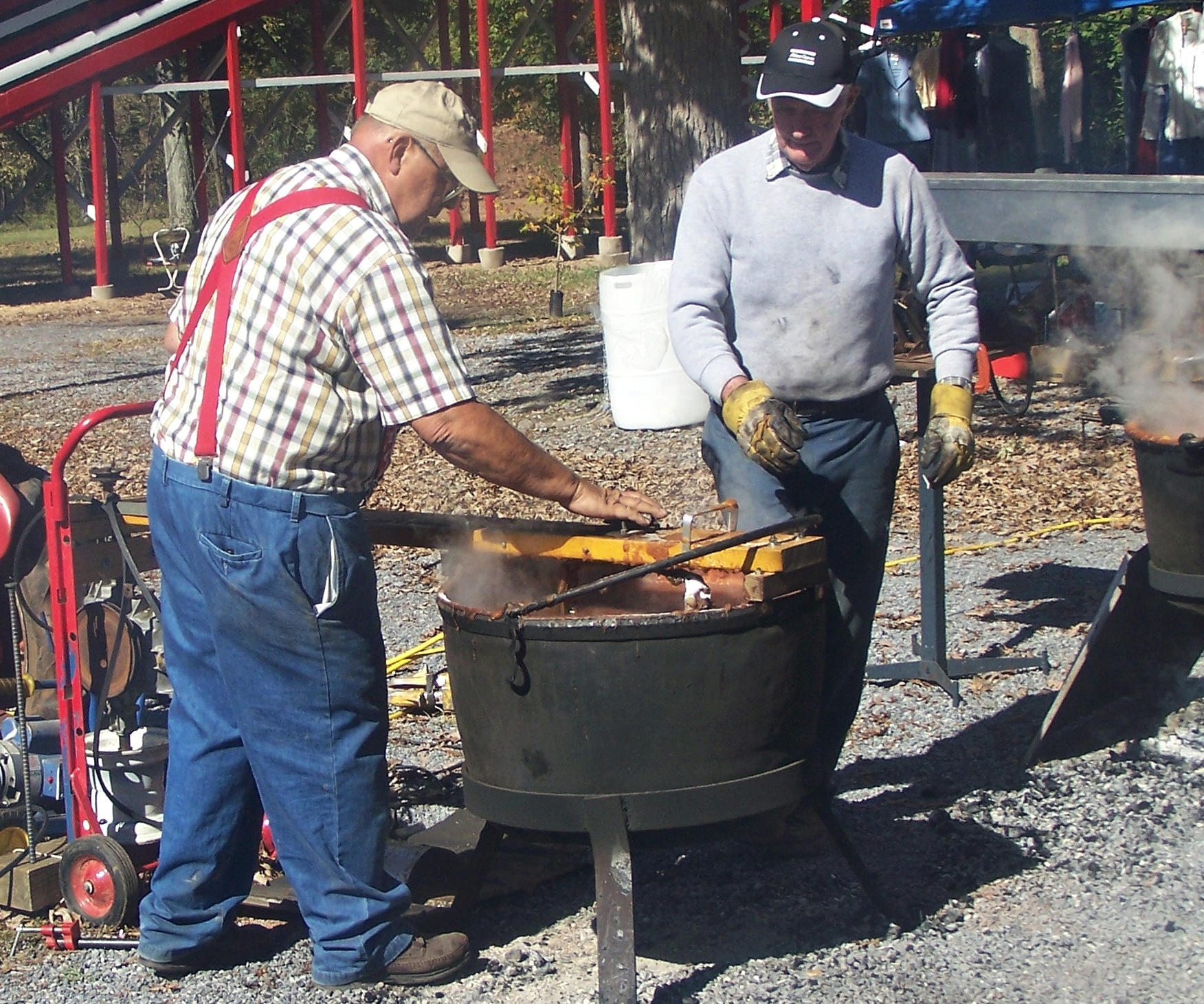 Richard Dinderman & Norman Poole work on the apple butter production line during Ridge Fest
Dinderman and Poole were assisted by Dindermanís brother, William, and Kevin Sharrer. Sharrer operated a front-end loader, which was necessary to lift the heavy vats of finished apple butter.
Power to churn the apple mix during the process was provided by equipment dating back to 1917, according to Dinderman. The demonstration was definitely one of the highlights of the event, as he and his compatriots produced some 1,300 pints of apple butter.
Dinderman said the group does not do this for a living. "Itís just a hobby," he said. The part not seen by the spectators was the peeling of hundreds of apples, which "was done by the ladies" of Mount Tabor Church before the event.
Aside from the flea market and old time apple butter production, food played a big role in this community event. Lines formed early to partake in the country-fried ham sandwiches and "fresh cut" French fries prepared by the fire company. Also, Mount Tabor Church offered soup and hamburgers.
But it wasnít all about lunch. Breakfast sandwiches prepared by the fire company were also available as early as 6 a.m. at the event.
Upcoming fire company events can be viewed at the companyís web site, www.rockyridgevfc.com.
Read other news stories related to the Emmitsburg