Sandy: Gone but likely never forgotten
(10/30) The devastation inflicted in the Mid-Atlantic, New England, and Great Lake states by Hurricane Sandy borders on the incalculable, and it will probably take days to find the dead, much less count them.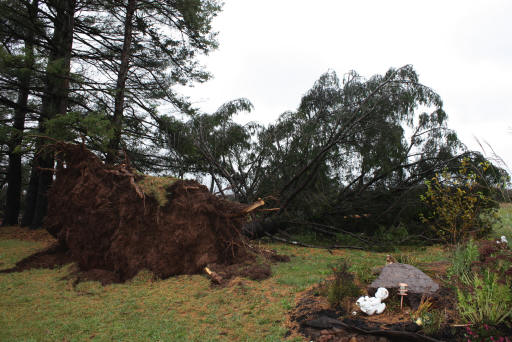 Many long established trees were no match for saturated grounds
and the strong winds of Hurricane Sandy.
The storm that crept menacingly up the coast from the Caribbean finally made landfall in New Jersey, and ultimately left a path of destruction in Virginia, Delaware, Maryland, Pennsylvania, New York and states north throughout New England, and as far away as the Great Lakes.
Damaged homes and businesses, downed power grids, cross-contaminated water supplies, and fallen trees testify to the power of the storm. The human toll stood at 38 as of October 30, but no doubt millions remain victims of post traumatic stress syndrome.
No one knows the total physical damage at this point in time, because the damage is continuing to occur.
Some are calling it the "storm of the century," but that could be a conservative estimate. Truth is, the convergence of a cold front, a high pressure system, and a hurricane in such a manner as that which occurred has never been recorded.
It was, some weather expects noted, the landed version of the movie "The Perfect Storm." Many reporters and meteorologists said, at the very least, "This is one for the history books."
"There is no precedent in hurricane records extending back to 1851 of a storm at this latitude taking this path," Mark Saunders, professor of Climate Prediction in the Department of Space and Climate Physics at University College London, stated.
Sandy was projected to make landfall via a steep left turn into the Mid-Atlantic during the overnight hours of October 28 and 29, where it was further projected to subsequently strike into the Adams County and Frederick County area with winds up to 60 miles per hour and gusts up to 75 and up.
Instead, Sandy surprised meteorologists when a high pressure system over New England, which would have channeled the hurricane in the anticipated left turn, apparently shifted during the night to the southeast, opening up a wider corridor for Sandy.
The result was, Sandy tracked further north before arching into the Mid-Atlantic states, and impacted the area encompassing Adams and Frederick counties with winds almost half the velocities that had been previously projected, the highest winds actually reported being in the low 40 miles per hours for about two hours Monday evening in Adams County, and 47 miles per hour for about an hour in Frederick County.
Rainfall emanating ahead of Sandy began across the area late-evening Sunday, October 28, accompanied by light winds, which reached 7 miles per hour during the early morning hours Monday.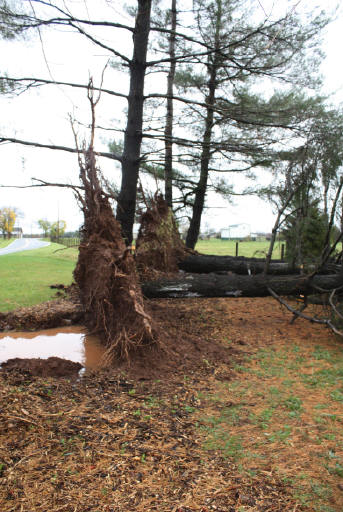 But as fairly steady and sometimes heavy rainfall that subsequently developed throughout the storm saturated the ground in the region, making still fully-leaved trees vulnerable to losing their grip on the soil with a little prompting from the winds. Adams County did not suffer a lot of downed trees, but they fell by the dozens in Frederick County.
Seamus Mooney, director of emergency preparedness, Frederick County Division of Emergency Management, said Tuesday, October 30, there were still "approximately 100 roads closed or partially closed due to high water or debris. We're still working there."
As far as power outages associated with the storm, Mooney stated, "Things are coming around power wise. We're down to 19,000 (without power), down from 33,000. We've got a ways to go."
"We're also working with municipalities, coordinating what issues they have and assisting them if we can," he said.
One shelter has been opened for those needing a place to go, that being in Brunswick.
A lot of trees have been reported down. He did not have a number at this point in time. As far as injuries, Mooney said "there were minor injuries overnight. We've been very lucky."
"I think (now) we're just encouraging citizens if they are without power and using generators to be careful and use them outdoors," the director stated, and to "encourage people to help their neighbors. Lend a hand."
John Hartzell, public information officer for Adams County Department of Emergency Services, said Tuesday around 5,041 electric customers were without power in the county as of noon October 30, and that the county also experienced "spotty cell phone outages."
A number of secondary roads were closed throughout the county initially due to flooding during the main storm event, he said. The number has since "diminished dramatically," with the remainder closed due to remaining downed trees and wires.
Irishtown Fire Company executed a water rescue operation, extracting three individuals on Fish and Game Road. All fire departments except one remained fully staffed into Tuesday, and two shelters had been opened, with a third to be opened later Tuesday.
Hartzell reported that the area experienced four to five inches of rain during the event, with the highest wind gusts reported at 50 miles per hour.
"We were very fortunate," he stated. "People were also being very smart on what they were doing" and there was little traffic on the roads during the storm event.
Andrew "AJ" Aldrich, FREMA emergency management coordinator, reported that one the communities who lost power, still ongoing Tuesday, was Fairfield Borough.
Hurricane Sandy has already inflicted 69 deaths across the Caribbean, including fatalities in Cuba, Haiti, and Jamaica, before the storm proceeded to the north.
Atlantic hurricane season generally occurs from May 15 through November 30, according to the National Hurricane Center.
Read other news stories related to the Emmitsburg