Family Pays Forward the
Gift of Catholic Education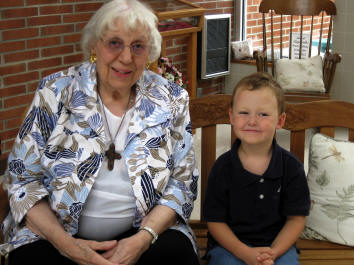 Ann Marshall and award recipient John "Jack" Schwenkler
(10/5) First Marshall Family Scholarship Awarded at Mother Seton School
Robert T. and Ann (Hall) Marshall had ten children graduate from Mother Seton School in the 1950ís, 60ís, and 70ís. Yes, thatís three decades! With the children grown and successful, now the Marshalls are paying forward the gifts that their family received from Catholic education and are helping local children in need attend Mother Seton School (MSS).
In an effort to give back, they created the Marshall Family Scholarship, a $1,000 per year, four year award, open to new MSS students with one or more parent on the faculty of Mount Saint Maryís University. It was important to the Marshall family to make the connection between Mother Seton School and Mount Saint Maryís University where Robert Marshall worked for over 35 years. "My Dad, who taught Latin, Greek and Linguistics at the Mount, knew that teaching at a small Catholic college was not the path to riches, but he chose this career because he loved teaching and he wanted to teach in a Catholic environment," said Kate Marshal, daughter of Robert and Ann Marshall. "He and my Mom were determined to provide their children with a Catholic education, but with ten kids, that required significant financial sacrifice. So this scholarship seemed like a fitting way to honor their commitment to Catholic education, both as educators and as parents," continued Marshall.
Robert Marshall started working at Mount Saint Maryís College in 1949 and retired in 1985. He taught Ancient History, Greek, Latin and Linguistics and was the Chairman of the Classical Language Department and then the Language Department (after Classical and Modern Language merged) for many years. He earned his PhD from Catholic University and did his post-doctoral work in Linguistics at Columbia University. During this time, Robert and Ann Marshallís ten children attended and graduated from Mother Seton School: Mary- class of 1959 (d.2006), Don- class of 1961, Margaret- class of 1962, Ann- class of 1963, Thea (Dorothy)- class of 1966, Sara- class of 1967 (d.1973), Kate- class of 1969, Patricia- class of 1973, Elaine- class of 1975, and Bob- class of 1977. Kate Marshal served on the Mother Seton School Board since 2002 and then as Board Chair from January 2006 through May 2010. She is now the MSS Community Liaison.
The first Marshall Family Scholarship was awarded this fall to John "Jack" Schwenkler, a pre-kindergarten student at Mother Seton School. "When we contacted Mother Seton School in early August to inquire whether they still had any financial aid available, the last thing we expected was to receive a four-year scholarship!" said Jackís mother, Angela Schwenkler. "We are immensely grateful to the Marshall family for supporting our son's education and continuing to strengthen the ties between MSS and the Mount, and we know we are blessed that he can be at Mother Seton's school."
With modest tuition, Mother Seton School is one of the most affordable private Pre-K through 8th Grade schools in Frederick County, but like the Marshalls with big families, and others struggling in the challenging economy, it can still be out of reach. Financial aid and scholarships make attendance possible for those with economic hardship and currently about 40% of students receive tuition help averaging $2,042 per child. For families seeking excellent academics and strong values, Mother Seton School is an affordable option that is easily accessible by bus from multiple locations in Frederick County. For admissions information, please visit www.mothersetonschool.org or call (301) 447-3161.
Mother Seton School is an independent faith and family focused school, sponsored by the Daughters of Charity, approved by the Archdiocese of Baltimore, accredited by the Middle States Association commission of Elementary Schools, and certified as a Maryland Green School.
Read other news stories related to the Mother Seton School