JD's opens on Main Street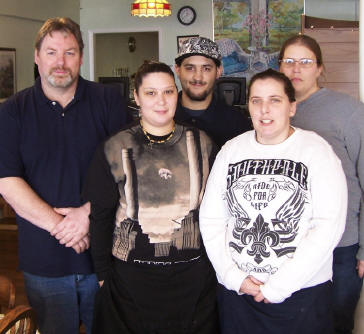 Joe Few, owner/operator of recently opened JD's Family Restaurant, 304 East Main Street, Emmitsburg, poses in the dining room with staff members Gina Glocken, Andy Wright, Jessica Smith and Jess Kettleman.
(12/29) The former location of Main Street Grill, Emmitsburg, has been reoccupied by a new eatery that recently relocated from Libertytown, Md.
JD's Family Restaurant, owned and operated by Joe Few, a former Emmitsburg resident, opened its doors for business on December 17, after Few decided to establish his former Libertytown restaurant in a new home at 304 East Main Street.
The site of the defunct Main Street Grill had been vacant for "close to four and a half years," he said. Few noted that he had been wanting to move the eatery to its new location since the building had become vacant.
Oddly, Few essentially acquired his indoctrination in a former restaurant, Main Street Deli, that was once located in the building. "I mostly wanted to be here because this is where I started," he stated, which prompted his move from Libertytown.
Few had performed numerous tasks while employed at the Main Street Deli. "I learned restaurant management and also cooked," he said. His father, Richard, "also taught me how to cook."
Altogether, Few has more than 20 years experience in the restaurant business. In addition to his experience in working with other establishments, he operated the Libertytown Family Restaurant for five years before the recent move to Emmitsburg.
The new JD's Family Restaurant has about nine staff members, including Few's sister, Deb Shafer, whom he also considers to be a co-owner. "I've worked with her for about 15 years (in the restaurant business)," he said.
Presently, the eatery consists of a dining room, a private party dining area, and a game room. Few also plans on adding an ice cream and smoothie bar in the near future.
The restaurant hours are from 8 a.m. to 8 p.m. on Sundays, 10:30 a.m. to 9 p.m. on Mondays, Wednesdays and Thursdays, 10:30 a.m. to 9:30 p.m. on Fridays, and 8 a.m. to 9:30 p.m. on Saturday's. The restaurant is closed on Tuesdays.
Breakfast is served from 8 to 11 a.m. on Saturdays and Sundays.
JD's Family Restaurant offers eat-in, carry-out and delivery, and can be reached at 301-447-3840.
Read other news stories related to the Emmitsburg