Briggs voted Mayor in election 'upset'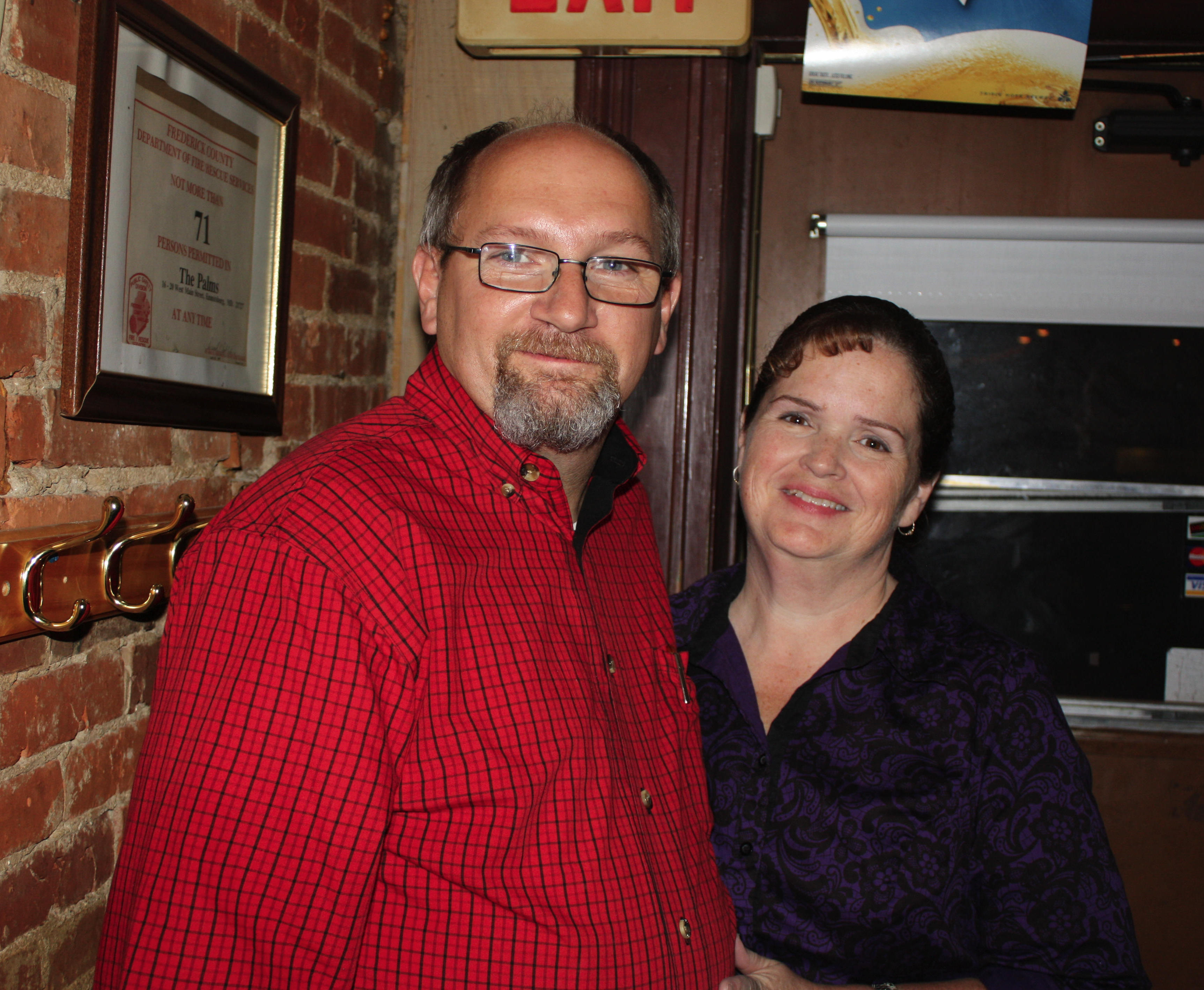 Outgoing Mayor Jim Hoover and his wife Dianne
(9/28) Incumbent Emmitsburg Mayor James E. Hoover was defeated September 27 by challenger and local realtor Donald N. Briggs in a town election that attracted participation by hundreds of local voters.
The threat of thunderstorms appeared to have little affect on the voter turnout, with 386 ballots cast (out of approximately 1,500 registered voters).
Briggs secured his win as mayor with a vote of 209 against 176 votes cast for Hoover. Councilman and council President Christopher V. Staiger, who ran unopposed for re-election, garnered 325 votes.
Learning of the loss, Hoover, who had gathered at the Palms with friends and supporters, looked visibly stunned and had little to say as cohorts consoled him over the defeat.
Briggs attributed his victory to his promised campaign commitments to "finishing the west side of town (west end development), making the town more commercially friendly, and finishing out the Brookfield and South Gate developments."
Other objectives he promulgated during the campaign which he credited with winning the victory included establishing "more youth civilities" and "taking back the Town Square (finding a means to make it more "than just an intersection)."
Regarding Hoover's loss in his bid for re-election, Staiger said, the contest between mayoral candidates represented "a battle of styles…(Hoover's) managerial efficiency versus (Brigg's) transitional leadership."
"I am surprised," the council president said of the upset, but "Don came in with today's (topical) issues. It's going to be a dramatic change (in governance). It's going to be an exciting three years."
Hoover, who is employed in management with the Maryland Department of Transportation, has served as mayor for Emmitsburg for the past nine and a half years after having served as an initially appointed, then elected, councilman.
One of the priorities of his terms as mayor had been to keep the government functional by "establishing a $700,000 reserve fund, tackling and improving upon the long-degraded wastewater collection system, and securing grants for much-needed improvements."
Briggs, a local realtor and owner of Briggs Associates, Inc., is a member and former president of the Emmitsburg Business and Professional Association (EBPA) and has served on various commissions and committees in town and in Frederick County, although he had not previously held a position of mayor.
Read other news stories related to the Emmitsburg