Town prepares for an
"Evening of Christmas Spirit"
(10/22) Emmitsburg's Christmas festivities - "An Evening of Christmas Spirit" - will go on unhampered this month regardless of the general state of the economy, but with a "new" twist.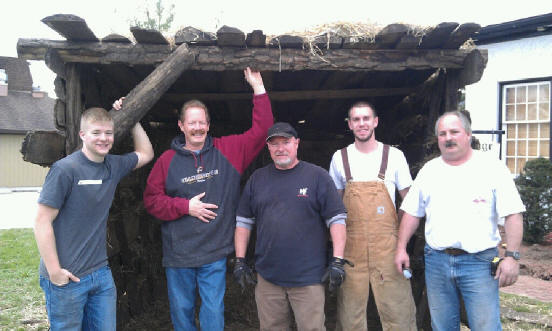 This year's festivities mark the 23rd year that the community holiday event has been formally held.
Mayor Don Briggs announced earlier this month that the community Christmas tree lighting ceremony, which will be held December 5, will be moved back to the Town Square.
The Town Square served as the traditional location for many years for the tree lighting ceremony until the event was moved several years ago to the county Community center property.
The move from the Town Square was apparently done out of safety concerns due to its proximity to Main Street traffic. However, one of recently-elected Mayor Briggs' campaign promises was to try and breathe new life back into the square.
"The formal (tree) lighting will be at the Town Square at 6 p.m.," Briggs stated. The tree will be set up at its formerly traditional location in front of the old four-story, 2 East Main Street, Emmitsburg Hotel. The public is invited to sing along with Christmas carols that will performed there as well.
Town Manager David Haller noted that, "Three or four parking spaces in front of the hotel have historically been blocked-off for people to gather," and those spaces will be closed-off once again for the public to gather for the ceremony.
The Carriage House Inn,will continue to hold its holiday festivities in conjunction with "An Evening of Christmas Spirit," which will follow the tree lighting ceremony at the square.
Inn co-owner Bob Hanse said the events at the restaurant are being sponsored this year by the inn, the Emmitsburg Business and Professional Association (BPA), and the Town of Emmitsburg.
Santa Clause will arrive at the Carriage House to partake in the festivities at 6:30 p.m. The inn will be offering free hot dogs, cookies and hot chocolate to the revelers, and will be featuring a live Nativity, entertainment, including choirs and vocalists (in the inn's Joann's Ballroom), and hayrides.
Hanse said, "We will be teaming more this year with the EBPA and the town" to hold the event. "A few changes have been made (such as moving the tree-lighting to the Town Square) and we're excited to have more people involved and get more people to this town event."
"It has grown passed me (in magnitude)," he said. "It's grown to be a town event…really exciting."
For a more exhaustive rundown of all the areas Christmas related events
visit the the upcoming events section of Emmitsburg.net.
Read other news stories related to the Emmitsburg