Two pedestrians killed,
one injured after being struck by vehicle
Stephanie Mlot
Frederick News-Post
(8/8) Two pedestrians were killed and another was seriously injured by a vehicle Sunday morning on the 100 block of North Seton Avenue.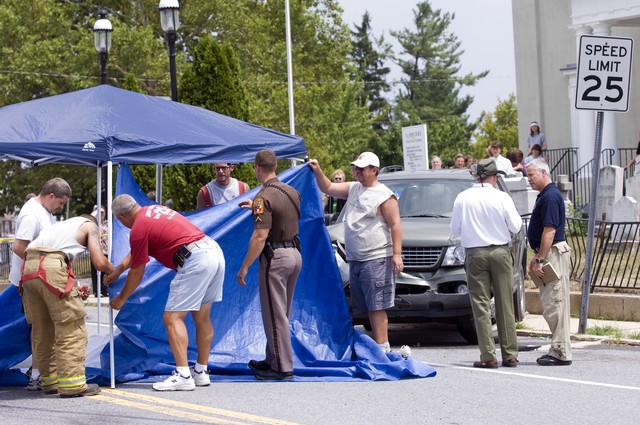 The Frederick County Sheriff's Office received the call at 11:20 a.m. for an SUV that struck at least one other vehicle, also an SUV, and three pedestrians outside of the American Legion post, said Cpl. Jennifer Bailey of the Sheriff's Office.
Patricia Mauro-Cillo, 64, was pronounced dead at the scene. John Cillo, 53, and Marian Derosa, 89, were flown to the R Adams Cowley Shock Trauma Center in Baltimore, where John Cillo was pronounced dead, Bailey said. Derosa continues to be treated at the hospital.
All three pedestrians were Emmitsburg residents.
According to police, a Mercury Mountaineer, driven by Mary Camilleri of Fayetteville, Pa., attempted to parallel park along the northbound shoulder of North Seton Avenue.
For unknown reasons, Camilleri rapidly accelerated in reverse, striking a parked Ford Explorer, pushing it onto the sidewalk.
Continuing in reverse, the first vehicle struck the three pedestrians who were attempting to cross the street.
The Rev. Vincent O'Malley, of St. Joseph's Roman Catholic Church on North Seton Avenue, was greeting people after mass when he heard "this bang of car against car," he said.
Among the group of about 200 people exiting church just after 11 a.m., O'Malley remembered seeing the Mercury SUV shooting diagonally up the street.
"Three people were hit," he said. "Three people were lying in the road."
O'Malley said the deceased were a husband and wife, and mother, but was unsure of which victim's mother.
Read other news stories related to the Emmitsburg