Police reverse initial findings of investigation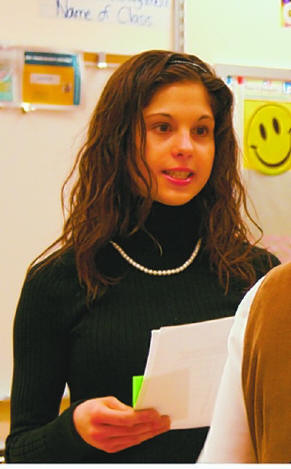 (6/11) A Mount Saint Mary's University jogger killed April 28 while jogging on a rural country road near the campus was running on the correct side of the roadway, police confirmed Wednesday.
The Frederick County Sheriff's Office erroneously concluded during an initial investigation that 22-year-old Elizabeth DiNunzio, a senior at the Mount, was struck by a pickup truck being operated by Emmitsburg area resident Joshua W. Cool, 29, while the student was jogging on the wrong side of the road.
Deputy Jennifer Bailey, Frederick County Sheriff's Office, said Wednesday that the results of the ensuing traffic reconstruction investigation established that DiNunzio was, in fact, jogging against the flow of the traffic and in the correct lane and "running along the shoulder" in accordance with Maryland State law.
The sheriff's office also initially said Cool was not being charged and had been absolved of responsibility.
However, presumably also the result of the conclusion of a follow-up investigation lasting more than a month, police reported last Thursday Cool and two others were being charged.
Cool was charged with driving an uninsured vehicle, negligent driving, and failure to exercise due care in avoiding a collision with a pedestrian.
Also charged were Joseph R. Cool, 52, and Ann V. Cool, 56, also of the Emmitsburg area. They were charged with permitting the use of an uninsured vehicle.
The uninsured vehicle charges are a "must appear (in court)" offense that can carry a fine of up to $1,000 and up to a one year jail sentence.
Negligent driving can bring about a $280 fine and failure to exercise care a $110 fine. Both are three point offenses.
Bailey said the investigation "did take a long time" and that the details regarding what had occurred on that fatal day were revealed "as the investigation unfolded. They (investigating officers) realized she was complying (with state road use regulations)."
DiNunzio, the daughter of Melissa K. and Eric J. Painter of Zelienople, Pa., the student's home town. She was a Spanish major at the Mount with an education minor. She was due to graduate May 10 – barely two weeks after her death – in the university's Class of 2009.
The 22-year-old wanted to be a Spanish teacher and was a member of the National Spanish Honor Society and president of the Mount Spanish Honor Society.
DiNunzio had just accepted a position teaching Spanish at the Lake City High School in South Carolina.
DiNunzio, preparing to participate in an upcoming marathon in Pittsburgh, was jogging along Old Emmitsburg Road near the Mount April 28 when she was struck by Cool's 1995 Nissan pickup truck, an event witnessed by Mount Saint Mary's University President Thomas H. Powell, whose residence is located adjacent to the accident scene.
The fatally stricken jogger died at the scene. President Powell was at DiNunzio's side as she expired
Powell recounted the nightmare event with the Times April 30, during which interview he said, "I was by her and holding onto her…I had a sense of strength when I was with her. I thank God I was with her."
Earlier, he told a grieving student body during a service held at the Mount's Chapel of the Immaculate Conception, "Now she has run home to heaven. Now we have an angel among us."
DiNunzio's parents were presented with her diploma and graduation pin by Powell during services held during the first weekend of May and the following Monday in Zelienople.