Buchheister wins two awards at Adams County Art Council's annual exhibit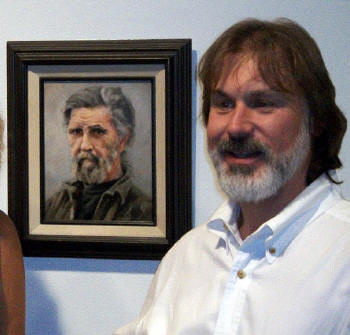 (7/1) Fairfield resident, Raymond Buchheister, Jr., took home two awards from the Adams County Arts Council's 6th Annual Juried Art Exhibition on June 19. His painting of his former art instructor Dennis Blalock of Thurmont captured third prize and the people's choice award. Though Buchheister took third place, his was the only painting that placed. The first- and second-place winners were a sculpture and photograph, respectively.
I am very ecstatic about my award because Dr. Isaac's stated that she chose the best executed piece for the style of art that was submitted," Buchheister said. "That meant that I was not competing with the sculpture that won first place or the photography that won second place. What it said was that my work was the best executed painting in the exhibition. And that brings genuine affirmation, especially since two-thirds of the pieces were painted works of art."
Dr. J. Susan Isaacs, Professor of Art History and curator for the Department of Art and Design, Art History, and Art Education Galleries at Towson University, and Adjunct Curator for the Delaware Center for Contemporary Arts, was the juror for the exhibition. She narrowed the 184 images entered down to 47 pieces and selected the winners from that group.
The exhibit is part of the Gettysburg Festival and sponsored by the Adams County Arts Council. It will continue through July 11 at the Schmucker Art Gallery, Gettysburg College. Gallery hours Tuesday - Saturday, 10-4.