WWII re-enactment set for Sept. 20
U.S. troops to push Third Reich out of Emmitsburg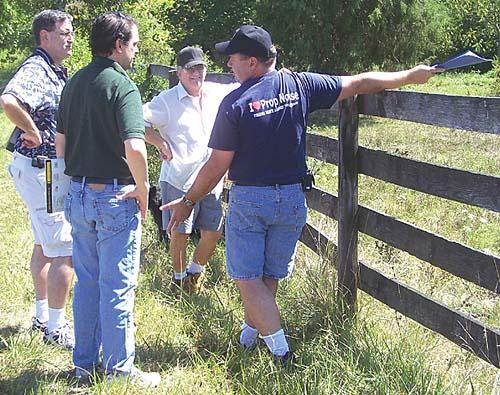 World War II re-enactment German commander Tim Kuntz, right, points out an area of the Buck Forest Farm, Rocky Ridge, that will likely be involved in the crossing of a 26-vehicle Allied convoy en route to the "Liberation of Emmitsburg" event to be held at 10 a.m. on Sept. 20. Second from right is John Ballenger, who owns the farm along with his wife Linda, and from left are U.S. Army re-enactors Neal Pizzano and Bob Buker.
(9/3) World War II re-enactors will be returning to Emmitsburg September 20 en route to the Eisenhower National Historic Site World War II living history weekend later this month.
William Buker, Catonsville, Md., a member of the 4th Infantry Division of Military Police, presented an overview of the event plans to members of the Emmitsburg Town Council Tuesday evening.
The re-enactment of the "Liberation of Emmitsburg" will be held starting at 10 a.m. Sept. 20, and will feature more military equipment and troops than last year, when it was held for the first time.
Also, unlike last year's event, which consisted only of Allied soldiers from the 4th Infantry Division Military Police Platoon, 8th Infantry Division, 82nd Airborne, and the 1st Canadian Parachute Battalion, this year will have an added twist.
German troops belonging to the 2nd Gebirgsjager Division will be looking to ambush the Allied covoy somewhere along its route to Emmitsburg.
In addition, the Germans will rush to occupy Emmitsburg ahead of the Allied troops after that initial scrap somewhere outside of town.
Buker said there will be as many as 26 or more pieces of period military equipment involved, including a half-track.
Emmitsburg will represent a small French town awaiting liberation from German occupation.
Actual WW II French and U.S. flags will be flown from shops and homes (the flags were flown on WW II ships and were purchased by Buker on eBay) while local residents will cheer the troops and hand-out nonalcoholic beverages, with period beer and wine labels, and French bread.
The convoy, along with their intended German prisoners, will then continue on to the Eisenhower Farm for that annual WW II encampment.
Also participating in this year's event in Emmitsburg is the Rocky Ridge-located Buck Forest Farm owned by John and Linda Ballenger.
The convoy will be traveling across the farm on its way to Emmitsburg.
The farm may serve as the scene of an annual World War II battle re-enactment site open to the public beginning next year, but this year the crossing of the farm, ford and the fields is non-public.
This reporter and Cathe Curtis, in the name of paleoplastic.com, Gettysburg, are providing funding for non-alcoholic drinks with period labels for the participants of the event.
Read other news stories related to the Emmitsburg