Rebecca Pearl showcases
new painting on Emmitsburg
(11/20) When Rebecca Pearl was trying to decide what subject to paint next, she found inspiration in a somewhat unlikely place, the newspaper, and took off on a discovery of her own.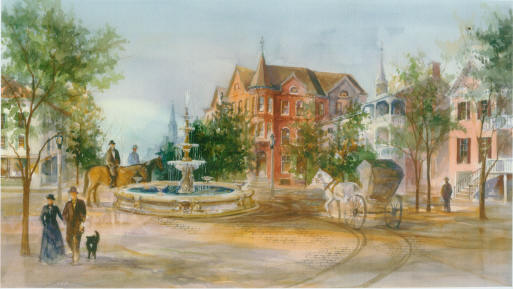 A series of articles printed in The Dispatch by Mike Hillman examined the history of Emmitsburg and its much-debated founding date became the inspiration for Pearl's new painting.
After reading one article in particular, which dealt with the town fountain in Emmitsburg, Pearl decided she wanted to bring it back to life on canvas and began her next project. Pearl spent countless hours talking to Hillman and examining old photos of the fountain in order to piece together a picture of a time long since passed.
"I tried to recreate a scene the way that it was, preserve it," Pearl said. "In that way it helps the community have more of an appreciation for how things evolved and it also acknowledges the people whose ancestors helped to build these towns."
From start to finish the process was an enlightening one for Pearl. Looking at all of the old photos of Emmitsburg was a bit "creepy" for Pearl, yet it gave her a sense of what Emmitsburg was like and put her in touch with the past and the people, a key in painting something good, Pearl said.
"You wonder, 'Who are they, what were they doing there?'" Pearl said. "It's kind of fun because you kind of get in touch with some of the souls of the past. You are never dead until you're forgotten."
After doing four or five versions, Pearl was left with "The Emmitsburg Fountain 1886", a painting Hillman couldn't be happier with.
"I think it's fantastic. It's something Emmetsburg's long since needed," Hillman said. "When I die and think of Emmitsburg, this is the picture I'll see."
The painting was officially presented at the Night on Main Street Thurmont event held Nov. 7, with proceeds benefiting Hope Alive.
Read other news stories related to the Emmitsburg