Historical maps find safe resting place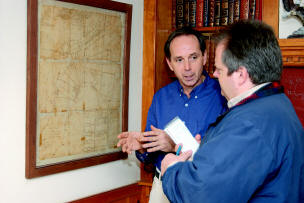 President of the Emmitsburg Area Historical Society, Michael Hillman (Left), explains the historical importance of land boundaries that are captured in this 1797 map. In a presentation to the Emmitsburg Board of Commissioners slated to take place Jan. 17, Hillman, on behalf of the historical society, plans to return the map to the town.
(2/15) At the Feb. 5 town meeting President of the Emmitsburg Historical Society Mike Hillman presented the town with two maps of the town, one dated 1908, the other 1797.
"It gives me and the members of the Emmitsburg Area Historical Society great pleasure in being able to return these two historic maps to their rightful owners - the citizens of Emmitsburg," said Hillman at the beginning of his presentation.
The 1908 map was a copy of one originally drawn in 1808. The map alleges to illustrate the original lot holders in town. Research of town deeds partially refutes this claim, but for the most part the map is accurate. The original map has not been located and the copy presented to the town seems to be the only one of its kind.
The second map presented was drawn in 1797, the product of a court order which set out to resolve boundary disputes between several land owners and their properties known as the "Toms Creek Hundred." Hillman refers to this map as his "Rosetta Stone," further solidifying his belief that Emmitsburg's correct founding date was 1785, not 1757.
"It's a great honor for this board to be able to accept these two documents," said Emmitsburg commissioners' president Chris Staiger.
Hillman believes it is important that the maps remain the property of the town and its citizens, and not be with a private collector.
"The map must never again be allowed to fall into the hands of a single individual or group where it might be held hostage to their whims or hidden from public view," said Hillman.
If for some reason the town were no longer able to care for the documents, Hillman requested that they be turned over to the Maryland State Archives.
Both maps will be on display at the Emmitsburg town office.
Read other news stories related to the Emmitsburg Town Government