EBPA reinvents itself to support businesses
(3/15) When the Emmitsburg town government first considered making changes to the town's sign ordinance, very few people knew about it. Certainly not the businesses that changes would impact the most.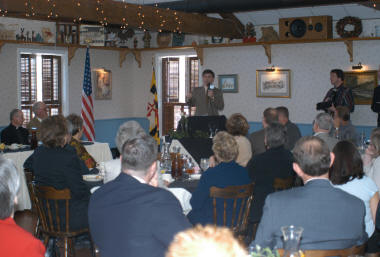 The Emmitsburg Business and Professional Association works to improve the business environment in town. In this 2004 file photo, the EBPA hosted a luncheon for then-Governor Robert Ehrlich, who came to town and spoke to the business community at the Carriage House Restaurant.
However, the interim board of the Emmitsburg Business and Professional Association learned about it. Members read through the proposals and didn't like what they saw.
"They were about to sign it, but we showed up and said we didn't like what it says," said Robert Rosensteel, Sr., a member of the EBPA interim board.
The commissioners heard the concerns from businesspeople in Emmitsburg and made changes in response to those concerns until the ordinance is just about ready to be approved.
More than 80 businesses operate in Emmitsburg, ranging from home-based businesses large multi-million companies. In all, Emmitsburg businesses employ about 2,500 people.
So how do they make their needs known to the town government to avoid problems like the potential one with the sign ordinance?
The Emmitsburg Business and Professional Association has a mission statement to "protect and promote a healthy business, professional and civic environment in the greater Emmitsburg area." The organization also offers professionals the opportunity to network and establish the business relationships that will help the town's business community thrive.
"It's the business community that helps make this town work as a community. All the non-profit organizations are being measurably supported by businesses," said Rosensteel.
He pointed to the support that businesses provide the Little League, Boy Scouts, Vigilant Hose Company, the Emmitsburg Volunteer Ambulance Company and other non-profit organizations.
"What are we as a town doing to promote business? The doors should be open and we should be welcoming with open arms good businesses," Rosensteel said.
An ad hoc committee has been working for the last three months to revitalize and restructure the EBPA. New standing committees have been established to represent local business interests in government relations, membership and development, marketing and events.
"I think it needed to be restructured. We want to put together a viable organization and put strength in it to benefit businesses," Rosensteel said.
The new EBPA is expected to be incorporated by its next meeting on Mar. 20. Anyone interested in participating with the group or finding out more about it, can attend the meeting at the Carriage House. It begins at 6:30 p.m. with dinner at 7 p.m. You can also contact Libby Briggs at (301) 606-5782 or Bob Rosensteel, Sr. (301) 447-6272 for more information. The meeting will include check presentation by Rosensteel Studios, Emmitsburg Glass and the EBPA to Betsy Day of the Frederick County Community Foundation.
Read other news stories related to the Emmitsburg