Recent rains help but don't end drought
(8/16) On August 9, Mike Hillman was like a kid as Christmas as he watched an approaching storm. He stood outside at a fence as the breeze picked up and whipped at the trees. He looked west as the gathering storm clouds obscured his view of the Catoctin Mountains and smiled.
He climbed over the wooden fence and stood in what had been pasture but was now a growing dirt patch. He kicked at the ground stirring up a little dust cloud.
"We need this storm. Now if it just doesn't miss us," Hillman said.
That's been part of the problem with the drought that the region is experiencing. When storms do come, they have been spot showers that moved through quickly. Three weeks earlier, Hillman had stood in the wash stall in his barn watching a storm approach. As he looked out the window, he could see a downpour, but as he looked out the front of the barn all he saw was sun.
As the first raindrops fall, he lifts his face to the sky and says, "Yes!"
Then he jumps the fence again and rushes inside up to the second-floor porch of his house. The rain is coming down harder now and Hillman is all smiles. When the storm abates, he hurries out to his wife's garden checking the rain gauge. Eight-tenths of an inch had fallen.
"That's not much, but it's four times the amount we got in all of June and July," Hillman said.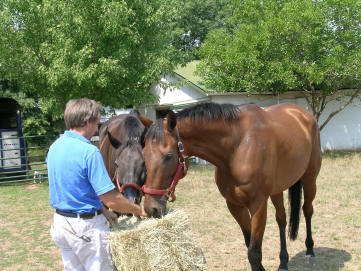 Frederick County farmers have been struggling with the lack of water since May. At that point, Hillman started having to feed his horses hay when they were in the field.
"We've never had to do that before in the 18 years we've been here," Hillman said. "They've always been able to forage in the field."
Now Hillman is paying for hay he never had to pay for before and he's paying twice as much for it because it's in short supply because hay harvests have been off as much as 50 percent.
Frederick County farmland covers around 195,000 acres or about 10 percent of the state's total farmland. As the largest agricultural county in the state, it supports about 1200 farms. So when the rain doesn't fall in the county, it can make the difference between the survival of small and large farms.
Stanley Foltz, dairy science extension agent, said, "Many of our farmers are really struggling. Many of our guys who have been doing all right are taking money out of savings now."
Many farmers had to take from savings last year to get by and this year's drought will only make it tougher for them to recover, according to Foltz.
"We're going to see quite a few more farmers get out this year," Foltz said.
According to him, over the past 10 years, Frederick County has lost about 5 percent of its dairy farms a year. Between May 2006 and May 2007, the number of dairy farms in the county fell from 138 to 125 or 9.5 percent.
Not all farmers in the county are suffering, though. Bob Black with Catoctin Mountain Orchards, said, "My father had the foresight back in the 1960's to have irrigation ponds dug."
The four irrigation ponds are spring fed, and although the levels are off somewhat, they are still full.
The lack of water has given Black a sweet peach crop, though. "The peaches are the best tasting ever," he said. "The dry conditions mean they've been filling up with sugar not water."
Black does have to be cautious with his workers in the field. He makes sure they have plenty of water and take frequent breaks.
"When I hear the weatherman say, 'Stay inside,' I have to laugh. When you've got crops, you've got to harvest them or lose them," Black said.