U.S. 15 becomes memorial highway
Christina Lee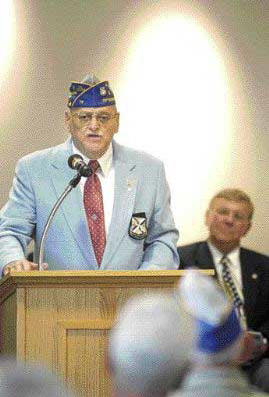 John E. Wilcox Jr. speaks about the 115th Infantry Regiment monument that was unveiled along U.S. Route 15 on Saturday morning.
(7/20) History-making efforts by the 115th Regiment Infantry have been permanently immortalized on the median of U.S. Route 15 as of Saturday afternoon.
At 1 p.m., members of the 29th Division Association and the Local American Legion Post, proudly donning their gray and blue infantry division hats, filed into the Mason-Dixon Welcome Center as they were greeted by cheery, patriotic fanfares of Citizens Brass.
Family and friends joined them in celebrating the long-awaited moment that U.S. 15 also became known as the 115th Infantry Regiment Memorial Highway. Frederick County Commissioner John R. Lovell Jr. and Del. Paul S. Stull (R-Dist. 4A) of Walkersville, also attended the event.
The roughly 9-by-19-foot memorial highway marker, now located just south of the Md. Route 140 Emmitsburg interchange, commemorates those from the now-retired infantry that served during World Wars I and II.
As project chairman John E. Wilcox Jr. delivered his remarks, the memorial was unveiled for all driving on U.S. 15 to see.
Then to celebrate that, Wilcox, also the national executive director and past national commander of the 29th Division Association, cut the ribbon with oversized scissors in front of a memorial model inside of the welcome center.
The idea of the memorial became reality after four years of planning and waiting, or as Wilcox said, ''a labor of love."
The 29th Division Association received $35,000 to use toward construction of the war memorial, Wilcox said. Included in those funds are a $10,000 grant from Frederick County commissioners, a state highway enhancement fund and private donations.
Back in 2002, Wilcox became inspired after passing by the memorials on I-70 honoring Korean War veterans.
He knew that he wanted the same sort of tribute for the 115th Regiment Infantry, and thought that something should be done to U.S. 15 to honor it.
Eight to nine months later, Wilcox ran into a good friend, who he knew could get something done about his idea. Stull himself passed along a letter written by Wilcox explaining his idea and history of the regiment.
The following January, Wilcox's proposal was taken to the Maryland House of Delegates, but as Wilcox said, like a lot of ideas, the bill died.
But Wilcox did not lose hope. In 2004, the Maryland House of Delegates approved a bill to dedicate U.S. 15 to the infantry and in addition, to construct a permanent memorial.
The keynote speaker, retired Brig. Gen. Ernest M. Snyder, said that the memorial honors a regiment that consisted of ''truly the finest of Maryland's men."
Snyder explained that the regiment and its colors had to retire in result of new threats. However, he also noted that the regiment is ''not gone from those who know its legendary accomplishments."
''This monument of concrete and mortar will provide something for hundreds that a precious few will understand," Snyder said, adding that ''countless millions will benefit" from the regiment's efforts.
Read other news stories related to the Emmitsburg Town Government