Truck route rattles locals
State monitoring Main Street, ticketing drivers
Geoffrey D. Brown
News-Post Staff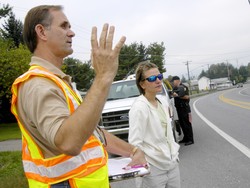 David Czorapinski, chief of Motor Carriers Division of the Maryland Office of Traffic Safety, left, and Emmitsburg resident Catherine Forrence talk during spot checks of trucks traveling through Emmitsburg on Md. 140 Thursday morning. In the background is Trooper William Krumpe of the Maryland State Police.
Photo by Skip Lawrence
(9/27) Hundreds of trucks rumble through town every day, at all hours, shaking Main Street homes and rattling their residents.
Catherine Forrence has had enough, and she has not kept it a secret.
"Our Main Street was designed with horse and buggy in mind," Ms. Forrence said Thursday as she stood with state officials at the side of Md. 140 east of town.
Largely because of her efforts, state officials have conducted joint unscheduled inspections of trucks for the past two weeks. Trucks of all sizes, carrying everything from milk to chemicals to lumber, use the road as a shortcut.
Ms. Forrence said the trucks damage the roads, their vibrations weakening buildings and their fumes polluting the town's air. The road is too narrow for big tractor-trailers, and houses stand as close as five feet from the truck traffic, she said.
"We don't want the street to be wider. We want the trucks to go away," she said.
She would also like to see a bypass around Emmitsburg to limit a rapidly rising flow of car traffic on Md. 140.
David W. Czorapinski, Maryland highway trucking traffic and safety chief, said every trucker en route to Emmitsburg probably knew about the spot safety check 10 minutes after its start at 9 a.m. Still, the crew was able to pull over and gather information on 40 trucks, write a few tickets, and let the truckers know they're keeping an eye on traffic.
Mr. Czorapinski's job Thursday was to do a survey of the truck traffic to find out where they are going or coming from and what they're carrying. Joining him were state police inspectors doing safety checks and inspectors from the state comptroller's office checking trucks for untaxed home heating diesel fuel in their tanks.
John George, president of the transportation division of D.L. George & Sons of Waynesboro, Pa., said a ban on truck traffic through Emmitsburg would seriously harm his business, which relies on Md. 140 to make deliveries.
"It would devastate us," he said. "We can't go nowhere if we can't go through that town ... there's no way to get the product to Frederick, Baltimore, Washington without going 30 to 40 miles out of our way."
But Mr. George said he supports a bypass. He is from the Emmitsburg area and understands residents' concerns about safety and noise. And a bypass would help truckers, who sometimes have to wait for the light to change three times to get through downtown Emmitsburg's main intersection.
Plans exist for a bypass to the north or south of Emmitsburg, but the state hasn't funded one because Frederick County hasn't identified it as a top priority, according to an August letter to Ms. Forrence from Douglas H. Simmons, deputy administrator of the State Highway Administration.
Short of a bypass, what the state can do to alleviate traffic on Md. 140 is limited. Mr. Czorapinski said he plans to return to do a truck count and take some photographs without being obvious.
Ms. Forrence said she is pleased Mr. Czorapinski has taken an interest in Emmitsburg's traffic troubles, and said the safety checks help to get unsafe truckers off the road.
"Most truck drivers--would--likely--avoid--passing through town if an alternate route was available," she wrote in an e-mail Thursday. "Until such a route is available, they will continue to impact Emmitsburg.