Hometown hero is laid to rest
on Memorial Day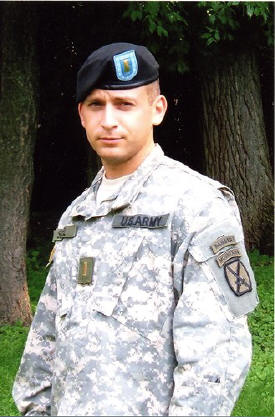 On Monday, May 29, Memorial Day, U.S. Army 1st Lt. Robert Seidel, III, 23, was laid to rest with full military honors. Within sight of St. Joseph's Roman Catholic Church's 9-11 memorial, Seidel was buried in the church's cemetery next to the Basilica of the National Shrine of Saint Elizabeth Ann Seton.
Seidel's journey home began a week and a half earlier on Thursday, May 18 near Baghdad, Iraq. An improvised explosive device detonated, striking the Humvee in which Seidel's patrol was riding.
Seidel and three others were killed, according to a spokesperson from the U.S. Department of Defense. Lt. Daniel E. Holland, 43, of San Antonio, Tex.; Sgt. Lonnie C. Allen Jr., 26, of Bellevue, Neb. and Pfc. Nicholas R. Cournoyer, 25, of Gilmanton, N.H. died with Seidel. Holland was assigned to the 352nd Civil Affairs Command, Fort Bragg, N.C. Seidel, Allen and Cournoyer were assigned to the 2nd Battalion, 22nd Infantry, 1st Brigade Combat Team, 10th Mountain Division (Light Infantry), Fort Drum, N.Y.
Seidel grew up in Emmitsburg. He was an altar boy for St. Joseph's Catholic Church and later a high school representative for the parish counsel. He played football and baseball for Catoctin High School and played in the Emmitsburg Baseball and Softball League when he was younger. He graduated from Catoctin High School in 2000.
"He had wanted to go to West Point since he was five," said Sandy Seidel.
He graduated from the U.S. Military Academy at West Point in 2004, the first Emmitsburg resident to do so.
He is also the first local resident to die in the Iraq War since it officially began in March 2003. Near the end of the service the Seidel family was given Rob Seidel's Bronze Star, which he was awarded for his service in the war.
Inside the basilica, the standing-room only crowd of more than 1,000 mourners showed how much Seidel meant to the community.
"The people of Emmitsburg have been wonderful," said Sandy Seidel.
Though Rob Seidel's parents, Robert, Jr. and Sandy, and brother Stephen, now live in Gettysburg, many of his family still live in northern Frederick County. His paternal grandparents, Robert Sr. and Ruth Seidel, are in Emmitsburg. His maternal grandmother, Arlene Giannini, is in Thurmont. His grandfather, Robert Seidel Sr. was a former Emmitsburg mayor, and a retired Mount St. Mary's College professor, and his uncle, Edward Seidel, had been an Emmitsburg Commissioner.
The Rev. James O. Keirnan, C.M., a former pastor of St. Joseph's Catholic Church, presided over the service, with Father Vincent O'Malley and Father Stephen Trzecieski as concelebrants. Kiernan had known Seidel as a young adult at St. Joseph's.
Present as well was the Auxiliary Bishop of Baltimore, Most Reverend W. Francis Malooly, D.D., V.G. and clergy from many other denominations in Emmitsburg's Council of Churches.
As the mourners inside the basilica sang "The Battle Hymn of the Republic" Seidel's coffin was carried from the church to St. Joseph's Roman Catholic Church Cemetery.
Prior to the Mass, 200 to 300 members of the Patriot Guard, a group of motorcyclists made up of veterans and their families who ride for special memorial duty, rode to honor Seidel. Maryland State Police, State Police K-9 units, Frederick County deputies, Emmitsburg fire personnel and about 15 police vehicles paid tribute.
The funeral cortPge was diverted en route from the Stauffer Funeral Home in Thurmont to the 140 (Main Street) ramp off U.S. Route 15, and then proceeded south on South Seton to the Basilica to avoid a small group of anti-military protestors from Westboro Baptist Church, Topeka, Ks. The half dozen protestors were contained on a small site diagonally across from the northernmost entrance to the Basilica, with police stationed nearby.
A scholarship has been established in Seidel's name and contributions can be made to the Rob Seidel Scholarship Fund, Catoctin High School, 14745 Sabillasville Road, Thurmont, MD 21788.
Read other news stories related to the Emmitsburg Town Government