Residents talk about why they voted
Chris Patterson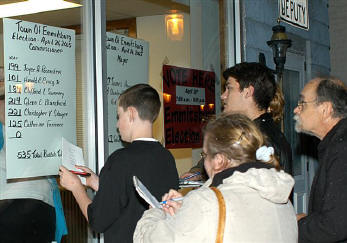 Residents and members of the press quickly write down election results immediately following their posting just after 11:30 this past Tuesday night.
(Photo by: Raymond Buchheister of Dispatch)
A woman toting three small children, a first-time voter, a man with layers of dust on his boots, a grandmother, and hundreds more like them made their voices heard loud and clear at the April 26 Emmitsburg election.
Robert Rosensteel, Sr., who voted along with 539 others, said he was proud of the turnout for the small town election. He was also proud that his grandson, Robert Rosensteel III, came with him to cast his first vote since he turned 18.
Voting was steady all day, according to the judges, with the evening rush hour bringing typical increases.
Between 4 and 5 p.m., 56 people voted. By 6:30 p.m., 84 more had cast their ballots. Voting drifted to a quiet stop just moments before the polls closed at 8 p.m.
For town election judges Denise Etris, Sabrina Paxton-Daily and Dottie Davis, who started their day at 6:30 a.m., the end of voting meant the beginning of the hardest part of their day. They counted votes until nearly midnight.
During the day, Davis used a "high-tech tool" - the handle of a fly swatter - to push ballots down in the ballot box. Voting only stopped once for a minute or so when the handle got stuck in the box, much to the amusement of judges and voters alike.
While few people wanted to reveal how they voted, they were more than willing to talk about why they voted.
Many voters were concerned about overly rapid development in town, traffic, or ecological issues. But mostly they were concerned about the fighting between board members and within town government. They were also worried that additional elected officials from Citizens Organized to Preserve Emmitsburg (COPE) might too heavily tip the balance of power to one organization.
Anne-Marie Miller, 36, has lived in Emmitsburg about two years and came to vote with her three small children.
Her main issues were how the "council gets along" and ecological issues, specifically the town's water and sewer problems, and the lack of fluoride in the water, she said.
Lucille Nielsen, 76, was concerned most about traffic problems in town. "I'd like to see a bypass," she said. "I don't think people will stop shopping (downtown) and it would help keep the trucks out."
She was not concerned about development as long as it is managed reasonably, she said.
Two Brookfield residents, Kristen McKenna, 33, and Tiffany Rupp, 28, appreciated meeting commission candidate Glenn Blanchard and mayoral candidate Stan Mazaleski when they each visited their neighborhood. Rupp said it also meant a lot when Mazaleski remembered her when she saw him again.
McKenna said her discomfort with COPE having another member on the board influenced her votes. She moved to Emmitsburg to get away from Montgomery County and to enjoy small town life, she said. Managed growth is important, but it is also important for the town's leaders to get along, she added.
Rupp's concerns were also about her children having the opportunity to grow up in a small town environment. Some growth is necessary, she said, but added that she shared concerns about COPE. "They are taking it to the extremes," she said.
Sister Mary Catherine Conway, principal of Mother Seton School, had two important elections on April 26. She first prayed and attended the student government election at school and later did the same for the town election. She voted to take care of Emmitsburg for the children, and also because it is holy ground, she said.
Sister Karen Burgess was voter No. 500. Burgess said she believes some growth is necessary and that led her to vote for candidates with a managed growth agenda. "A town has to grow or it will die," Burgess said.
Departing Commissioner Dianne Walbrecker voted just before 8 p.m. and the significance of voting for her replacement was not lost on her. She felt emotional about casting her ballot and stuffing it into the box. "Yes, it does make it final," she said somewhat sadly.
As the evening wore on, a string of people stopped in front of the old town hall on East Main Street to see if the results were posted. The rain began softly around 10:30 p.m. and by 11:30 p.m. it was coming down pretty regularly.
A brother and sister sat in their van across the street. They were not friends of any candidates, they said, but were just curious about the election results. While waiting, the sister voted on her cell phone over and over for her favorite American Idol.
After two announcements to the waiting crowd by a Frederick County Sheriff's Deputy monitoring the count, the results were finally posted in the window and people appeared en masse like moths to a flame.
With many squeals and a rare groan, residents and members of the press tried to take in the impact of the final count. Press representatives, candidates and others quickly wrote down the numbers in the cold rain as the ink ran down their papers.
One man, Tom Wilhide, 63, who had waited hours in the evening chill and rain, was more than pleased with the results. Indeed, he was positively giddy.
"My candidates won! The ones I voted for won!" he said.
And there was joy in Emmitsburg, at least for most.
Read other news stories related to the Emmitsburg Town Government