Frailey Road residents await
road reconstruction

Ingrid Mezo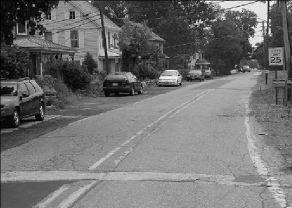 A road reconstruction project on Frailey Road in Emmitsburg has been delayed several times. Residents are eager for the project to begin.
Sandra Wormley has lived on Frailey Road in Emmitsburg for about 40 years. She said she would be happy if the town fixed the road, but was skeptical it was really going to happen this time.
"It's been like this for a long time," Wormley said. "It's been bad. It's lumps and bumps and everything else on there."
The Emmitsburg Board of Commissioners accepted a bid last week to begin reconstruction on Frailey Road. The road, off Main Street in the downtown, has been in disrepair for years, according to Town Manager David Haller.
W.F. Delauter and Son placed the winning bid of of $71,851, and are scheduled to start the job in the first or second week of July, according to company owner Kirby Delauter.
The company will fix the potholes, uneven paving, and worn patches on the road, caused by recent laying of cable, work to water lines, and years of use without repair.
Delauter anticipates construction will be completed by Aug. 1.
The town had set aside money to begin repairs on the road several years ago, but did not accept a bid from a contractor at the time. The repair costs will come out from the budget for the entire Mountain View Road project, which totals about $300,000, Haller said.
Wormley said she would be relieved when the construction is over. Cable was recently laid on the road, which worsened the potholes, she said.
Tyler Myskewitz has lived in Emmit House, an apartment complex situated between Main Street and Frailey Road, for four months, and agreed that he would be happy when the construction was over.
"Our water was shut off and there was dirt coming through our water," Myskewitz said. "They kept hitting the water line up at the top of the road and down at the bottom a couple of weeks ago, and then like a month ago... They've been cool about it, just the water thing's a nuisance."
Haller said he was eager to begin the project, because the commission had already delayed construction 90 days earlier this year by refusing to accept an earlier bid offered to repair Frailey Road.
Commissioners voted unanimously in favor of accepting the bid. Bill O'Neil abstained from voting.
O'Neil said that costs on such contracts can often go up much higher than initially projected, when the construction company "unexpectedly finds rock," and reminded the board that Emmitsburg was all rock due to its mountainous location.
"In most contracts, there is a rock clause," Haller said. "In this case, there is no trench to dig."
Delauter said that his construction company does not anticipate any problems.
"This is a lump sum contract, so the price is fixed," Delauter said.
O'Neil was unhappy that Haller had added this item to the town's agenda "at the last minute," and said that Haller was attempting to push the bid through in this manner as a "way of circumventing public discourse," on it.
Read other news stories related to the Emmitsburg Town Government