Jim Hoover Sworn in as New Mayor
Chris Patterson
Gazette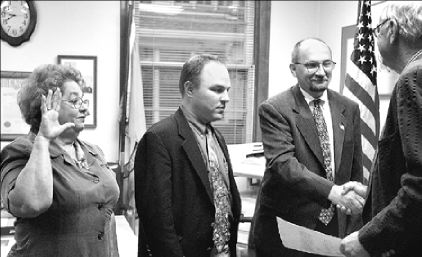 In a town hall overflowing with residents and family members of candidates, Jim Hoover was sworn in as mayor of the Town of Emmitsburg on Monday night. Mayor William "Doc" Carr had been mayor for the previous 10 years.
Hoover, 38, has lived in the town for about seven years. He and his wife moved there in 1995. In 1998, he ran unsuccessfully for town commissioner.
After that race, then-Mayor Carr appointed Hoover to fill a vacant seat on the Town Council. When Hoover ran again, he earned his seat and a three-year term outright. That term expired this year.
Monday night, town residents and the families of the new officials watched as Carr swore Hoover into office simultaneously with two new commissioners, Joyce Rosensteel and Ted Brennan.
Amy Phillips, a resident of Emmitsburg for two years, said she wanted to see Hoover sworn in because she voted for him.
"I felt like he had the managerial experience and a grasp of the issues of Emmitsburg and a real care and concern for the people of Emmitsburg," she said. "I enjoyed what he had to say about his hope for better communication between the staff and the town."
Hoover reinforced his message about improving communication by reiterating some of the ideas he plans to implement to improve communication.
He said he intends to use the town's Web site, the town's newspaper The Dispatch, the bulletin board in front of Town Hall and any other methods he can to get more information to the public.
Hoover said he also wants to get the agenda for each meeting out to the public earlier and to get more residents to attend town meetings and be more involved in town government.
One of his first official acts Monday night was to recommend which commissioners would have primary responsibility for areas within the town. Hoover recommended Commissioner Clifford Sweeney take responsibility for streets and sanitation, Patrick Boyle to continue as president of the board and liaison to the Board of Zoning Appeals, Rosensteel to be assigned to the parks and Brennan to have planning and zoning in addition to water and sewer. The board unanimously approved his recommendation.
Rosensteel, 64, said after the meeting that she wants to see if she can get more activities organized in the parks for youth. She plans to have her daughter help organize that effort, she said.
As for her new job as commissioner, Rosensteel said she is very excited about her new responsibilities.
"It's a challenge and I'm eatin' it up," she said.
Rosensteel, has lived in Emmitsburg for 47 years and is retired from the City of Frederick's Department of Human Resources.
Brennan, 34, said he is keenly aware of the significance of his new responsibilities as commissioner.
"Every decision I make, whether to vote for something or against something, will directly or indirectly impact every member of this town, so everything I do has to be carefully weighed," he said.
Brennan said he would be working on putting together a water commission because water is such an important issue now.
"What I hope to do is pre-empt any issue before it gets out of hand. It's not out of hand now, but we need to address it before it gets out of hand," he said.
Brennan has lived in Emmitsburg for about seven years. He is a professional staff member on the U.S. House of Representatives International Relations Committee. Both Rosensteel and Brennan are serving their first terms as elected officials.
Read other news stories related to the Emmitsburg Town Government