Justin Kiska, Candidate for Frederick County Council At-Large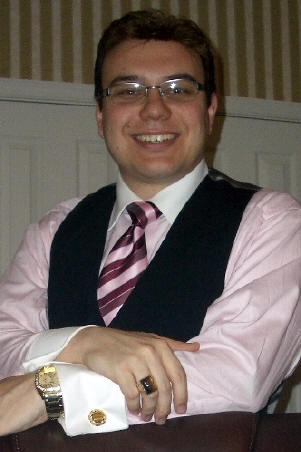 (6/1) My family moved to Walkersville when I was only five years old and that is where I am proud to say I grew up and went to school. Itís hard for me to remember a time when I didnít live in Frederick County. After I graduated from Walkersville High School and it was time for me to go to college, I chose The George Washington University because I knew it was the perfect school for me. Why go to Boston or New York City to learn how our government works when I could go to school in the nationís capital and learn from those actually in the government?
As I was getting ready to leave for GW, my parents began looking at building a house in the new Wormanís Mill neighborhood on the north side of Frederick City. I fell in love with Wormanís Mill the first time I saw it and said that after college, when I came back, that is where I was going to live.
While I was in Washington, I worked on my first political campaign. Many start with a campaign on the local level; I started volunteering for Elizabeth Doleís Presidential Exploratory Committee. By the time she ended her campaign, I had worked my way up from a volunteer to an assistant in the fundraising department. After a semester working as a Policy Intern at Empower America for former Cabinet Secretaries Jack Kemp and Bill Bennett, I returned to Mrs. Doleís office to become her Scheduler and Special Assistant.
There was a time, as hard as it may be to believe, that "politics" was not a dirty word and our representatives in Washington could disagree while debating on the floor of the House and Senate, then put those differences aside and go out together for dinner. We had leaders in the government like Bob and Elizabeth Dole and Jack Kemp, all who believed in the importance of serving and who understood it was more important to do something than simply fight about something. These were my teachers. These were the people who instilled in me what it means to be a public servant.
During all of my time working in Washington, I still considered Frederick my home. At the end of 2001, when an opportunity presented itself, my family purchased The Way Off Broadway Dinner Theatre, and I returned to Frederick to take over as the theatreís Managing Director. My family had been involved in theatre for a long time, but everyone who knew I had been working in Washington assumed I would continue following that path. Some were surprised to find out I was leaving Washington, but I saw coming back and running Way Off Broadway and building a successful business as a chance to be a part of a great community. And when I came back, I bought a home in Wormanís Mill.
A few years ago, I was honored when Frederick City Mayor Randy McClement appointed me to the group charged with forming what is today the Golden Mile Alliance. It is an organization that is working to revitalize the Route 40 corridor, which was once an economic engine of the city. Today, I am the President of the Golden Mile Alliance, and while there are those who think the Golden Mile can never be revitalized, I know it can. Anything is possible in Frederick County because of the people who live here and the commitment they have to their community.
The potential Frederick County had always amazed me. I grew up knowing Frederick County was a very special place and I knew what could happen here. That is why I came home. I wanted to be a part of Frederickís future. In the last twelve years, Frederick has changed and grown and will continue to grow. As much potential as I saw in Frederick twelve years ago, it has even more today. I am excited about all of the possibilities of what can happen right here in Frederick County.
That is why I am running for the new Frederick County Council. I want to help guide Frederick County into the future. I want to help unleash Frederick Countyís potential. I want to see Frederick County be as great as it can be.
This year is a new beginning for Frederick County. The Charter that goes into effect in December will usher in a brand new government. The new County Executive and Council members are going to be the ones that lead Frederick into the future. So it is imperative to elect the people who believe in Frederickís potential; the people who will do whatever they can to make Frederick County the best it can be. We need to elect the people who are going to lead and make each and every resident of the county proud.
Since I entered the race in February, I have been crisscrossing the county trying to meet as many residents as possible. There is still a lot of ground to cover, both literally and figuratively. With the Primary fast approaching, I am asking you today for your vote on June 24th. Between now and Primary Election Day, I am going to continue working my way around the county to win every vote I can. Iíll see you on the campaign trail!
To learn more about Justin Kiska visit www.JustinKiska.com
Read other articles related to 2014 Frederick primary races