Blaine Young to run for county executive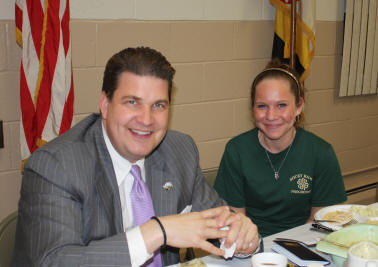 County Commissioner Blaine Young and 4-H member Stacie Baust share a smile at the Rocky Ridge Volunteer Fire Company award banquet.
The Emmitsburg News-Journal has learned through reliable sources that County Commissioner Blaine Young will be running for the position of county executive in the November election.
When he formally announces, Young will join current Commissioner David Gray, who announced on December 10, and former Commissioner Jan Gardner, who announced on November 9, as a candidate for the top leadership position set under the new charter government that will take over from the current board of commissioners in 2014.
Young will face Gray in the Republican primary in June. This is the second time the two have gone head-to-head. In the 2010 county election, which was swept by all five Republican candidates, Gray finished fourth to Young, who not only won the most Republican votes, but also garnered 50 percent more votes than the top Democrat candidate, Kai Hagen.
The voters in Frederick County approved the proposed change of governance from a board of commissioners to a charter form of government in the November 2012 election. Those elected to the new seats in the upcoming November election will assume their positions in December. Among the changes implemented was the establishment of a county executive position, which will be a four-year term. The elected individual cannot serve for more than two consecutive terms.
In March of 2010, Young was appointed Commissioner in order to fill the remainder of the term of Charles Jenkins. He then successfully ran for a full-term seat on the board and was subsequently made president of the board of commissioners.
At the state level, Republican Wendi Peters has announced that she will run as a candidate for the Maryland House of Delegates representing District 4 (Frederick County).
District 4A, presently represented by Republican Delegates Kelly Schulz and Kathryn Afzali, and District 4B, presently represented by Republican Delegate Donald Elliot, will cease to exist in 2015 as a result of the state redistricting that was enacted in 2012.
District 4 will have three delegates, and those seats are to be filled in the November election. (More on the effects of redistricting in the next issue of the News-Journal.)
Peters has served two terms as a councilwoman for Mount Airy, and has "been active as a community leader and volunteer for more than two decades," serving on a number of committees and associations.
Regarding her bid for the delegate position, Peters said, "Democrats and Republicans (in Annapolis) are often talking past each other, instead of talking with one another in working to solve problems. I intend to build relationships and solve problems, without compromising my principles," Peters said. "In addition, we see Legislators arenít always paying attention to the unintended consequences (of proposed legislation). I have eight years experience working on legislation at the municipal level where I worked to be sure that we thought through and prevented the possible unintended consequences of what was being legislated."
When asked about her qualifications, state Senator David Brinkley, whose senatorial district includes northern Frederick County, only had praises for her: "I've worked with Wendi many years on issues affecting Mount Airy. She would be a responsive, thoughtful, conscientious delegate for the district. She has my support."
Read other articles related to 2014 Frederick primary races