From the Desk of Billy Shreve,
Candidate for County Council at large
Getting results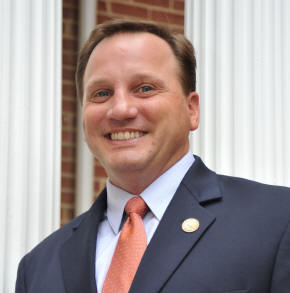 (11/2014) Why you should vote for Billy Shreve for Council at Large on November 4th? Simple, I get results! Plain and simple. I roll up my sleeves and make tough decisions. If I make a promise, I keep it. You know who I am and what I stand for. That doesn't happen very often in the political world.
In 2010 you trusted Blaine Young, Kirby Delauter, Paul Smith, and I to lead the County through the worst economy since the Great Depression. Result: awarded the highest bond rating in Frederick County History!! Standard and Poor's said "We view the County's management position as very strong".
My Board of County Commissioners produced over 5 pages of results to make your life easier, and less complicated so you can spend more time with your family. Visit www.BelieveInShreve.com to see the complete list.
Here are just a few highlights of our accomplishments:
Taxes: 265+ taxes & fees reduced or abolished. No longer are you required to get a permit to install a garbage disposal or pay to register your home alarm.
Senior citizens: Initiated several programs to allow seniors to live better, and age in Place. Pilot program allows seniors vouchers for private transportation when buses do not work. Initiated a Senior Tax Credit. Started a land trust, which will allow several senior friendly living options and can be partially tax free.
Education: Wi-Fi in every school. Why turn off a Students connection to the world? Invested so every classroom is connected to the most up to date information available. School security was enhanced, and investments were made in new schools and additions to existing schools. System wide school capacity is now less than 89%.
Roads: Partnered with the city, state, and private sector to build and enhance roads. Improvements are being made to RT 15/Opossumtown Pike, & RT 270/80. Three interchanges are planned or being built at RT 15 near Butterfly Lane, RT 15/Biggs Ford Rd, RT 70/Meadow Rd, plus improvements to RT 75 and Monocacy Boulevard.
Open for Business: Large & small business tax credits to foster create jobs, retain business, and lower unemployment. Result: More citizens live & work in Frederick County. The government must be stable, trustworthy, predictable, and establish the same rules for everyone.
Drugs & Crime: I championed collaborative efforts with the county, state, sheriff's department, health department, state's attorney's office, 12 municipal governments, and Frederick County Public Schools to educate parents about drugs & drug related issues surrounding their children. Produced 4 events in high schools and a video that can be viewed online. We must stop the rising 300% increase in heroin use, overdoses, and affiliated crimes.
Everything was completed during the worst economy since the Great Depression, without raising taxes.
If you want leadership and results … I'm your man. Vote for me on November 4th.
To learn more about Billy Shreve visit www.believeinshreve.com
Read other articles related to Frederick County 2014 Election