From the Desk of Billy Shreve,
Candidate for County Council at large
Moving Forward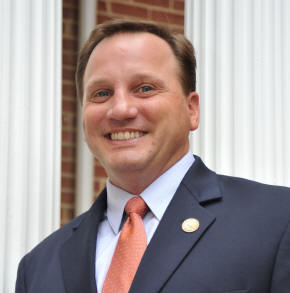 (10/2014) The single most important Frederick County election in our lifetime happens on November 4th. Frederick County will elect a new form of Government, a County Executive and County Council. I am running for Council at Large. My team created this new form of Government and I want to be elected to see this through.
Often I am asked what I would like to do my next 4 years in office. I will continue being the person you have seen the last 4 years that reduced or eliminated 265 different taxes and fees and lowered your property tax rate. I will continue to keep my promises and keep the government off your back and out of your wallet.
I will continue to give you principled conservative leadership. When Governor O'Malley taxed rain, I stayed with the letter of the Law and implemented a tax collection process, but charged the property owners of Frederick County $.01 per property per year. Why should Frederick County citizens pay the $1.8 billion that O'Malley wants us to pay? We all like clean water but the O'Malley administration still doesn't have the scientific data to prove this is a Frederick County problem. We do have scientific data to show 48% of the pollution in the Chesapeake Bay comes from Pennsylvania yet the Governor wants Frederick residents to pay for the PA problem. I will keep fighting the good fight.
I will continue to ask lots of questions to Frederick County Public Schools (FCPS) and the elected Board of Education (BoE). I will ask why is it that I can get free Wi-Fi at McDonald's but not in public schools. I will continue to ask if it is all about the children why is it that every time it rains we have 5 classrooms that are shut down because our school roofs leak, yet FCPS has a staff of full time roofers. I will ask why your elementary school students in portables sit on the floor waiting for 15 minutes, 3 times per day waiting to use the bathroom when I can add more bathrooms to a school for $40,000 per year. The BoE budget is $540 Million? That is only 0.00007 of the FCPS budget, or way way way way less than 1% to add more bathrooms and keep your child off the floor. We now have Wi-Fi in all schools and extra bathrooms where we need them. It will be about your child's education, safety, and well-being the next 4 years.
I will continue to ask why our deputies and firefighters are so far behind in their pay scales and why they were never fully funded by previous commissioners. This board paid them what they were promised and what they earned. I will continue to fight for our deputies and fire fighters.
I will continue to advocate and pass laws to allow our senior citizens to age in place and not be taxed out of their homes. I will fight to allow this BoCC's amazingly popular senior tax credit to be extended to disabled veterans.
I will continue to look at every line of every document that passes before me and ask if there is a better way to do this and can we provide better service for less. I like to roll up my sleeves and git' r' dun for the citizens of Frederick County. We are open for business and our future is bright. We are known as the place to open, or do business in the State. Elect me to County Council at Large and I promise to keep it that way. Promises made, promises kept.
I'm not afraid of hard work or critics. Mother Teresa once said "If you are successful, you will win some unfaithful friends and some genuine enemies. Succeed anyway". I'm with Mama T on this one.
To learn more about Susan Jessee visit her campaing website at www.susanreederjessee.com
To learn more about Billy Shreve visit www.believeinshreve.com
Read other articles related to Frederick County 2014 Election