From the Desk of an Gardner,
Candidate for County Executive
Leadership you can Trust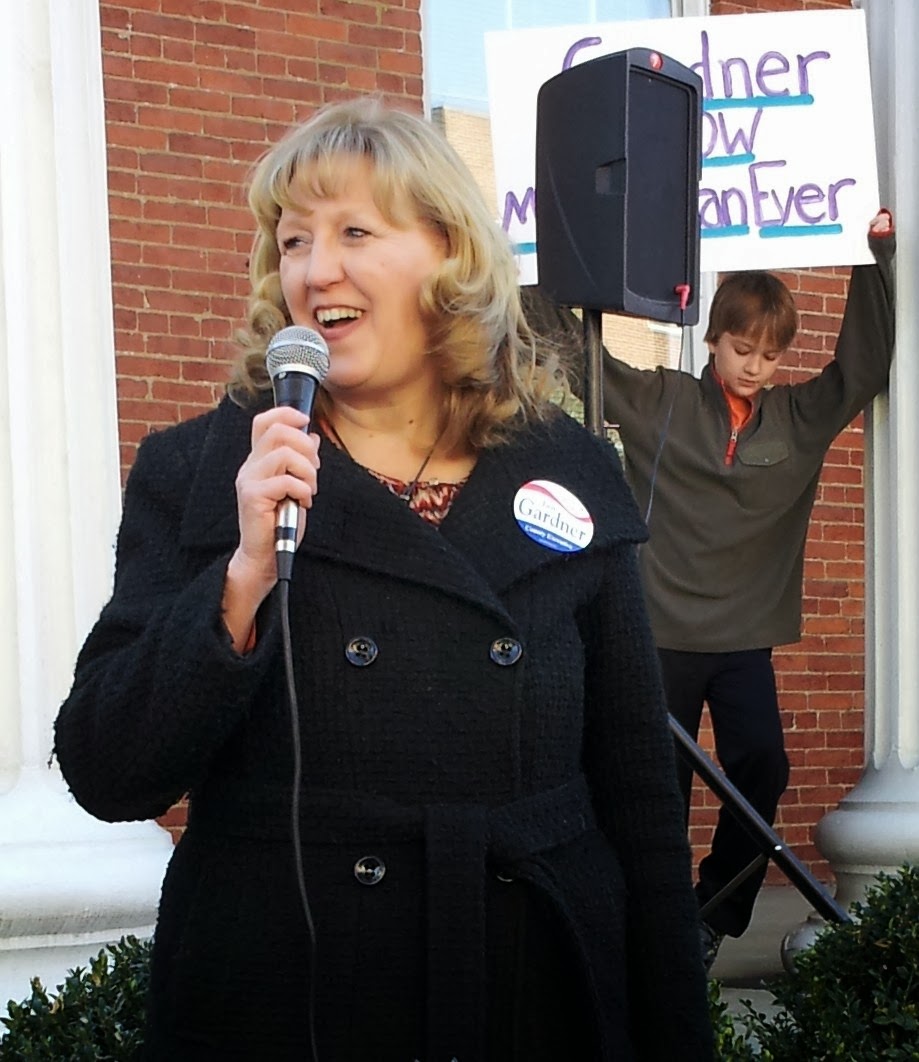 (9/2014) Relationships matter. Most of us know that our relationships with other people matter most. Whether it is the relationship we have with our parents and children, or with our neighbors and co-workers. Our relationships are a reflection of our values, our ability to work with others, and mutual love and respect.
I have been blessed in my life with a supportive family. My parents just celebrated their 64th wedding anniversary. They live in the same house in which I grew up. I have known for many years that my parents love me unconditionally. This love and stability have provided me with the strength to try new things, take risks, and be successful. I can still call my parents and ask for their advice. I still want my parents to be proud of me. As I watch my parents grow older, I feel a certain sense of sadness and am sometimes emotionally overwhelmed with how much I love them. They are truly the best people I will ever know.
Likewise, I have been blessed in marriage. I have been married to my husband John for 31 years. We are partners in life and in love. I know I can count on John to stand with me through thick and thin including political campaigns. We have enjoyed raising three children together and are looking forward to grandchildren (though our children seem to want to make us wait for them). Like most families, it hasnít been perfect. We struggled when one of our children was sick for over half a year and when Johnís mother died of cancer. We are proud of our children. Our relationship will weather whatever storm lies ahead in this election cycle.
Relationships matter at work and in the community. We often get things done based on the relationships we have with other people. It is about knowing who to talk to and who can help solve a particular problem. It is about being part of a team. Sometimes it is about having a seat at the table where decisions are made and having the relationships to get invited to the meeting. Together, we achieve more than we can individually.
All good relationships are based on trust.
I have been honored to serve the Frederick County citizens as a county commissioner. Public service is the best job in the world. Every day is different, you get to meet and work with a lot of different people, and there is no better way to make a difference in the community.
I am running to serve as Frederick Countyís first County Executive because I want Frederick County to be the best place to live, work and raise a family. My campaign is focused on restoring trust in government and securing a positive future for our community. I am committed to excellent schools, managing growth responsibly so we can preserve what we love about Frederick County, keep our communities safe, and control spending through strong financial management. These objectives are accomplished through our relationships and by working together. It is about maintaining the public trust, treating people with dignity and respect, balancing the legitimate needs of the community, and getting things done by working with others in an environment of mutual trust and respect.
To the office of County Executive, I bring unique relationships with county, state and federal officials to get results for Frederick County and to obtain our fair share of funding for schools, roads, senior services, and public safety.
I am committed to keeping the promise to our senior citizens by honoring the covenants in the deed on the land at Montevue to keep our nursing homes and by restoring the cuts to Meals on Wheels so no senior goes hungry.
I am committed to keeping the promise to our children by working with our educators and other stakeholders to develop a financially responsible outcome based plan to make sure our children are prepared for the jobs of the future.
I am committed to listening to people and making decisions about growth that enhance our community and put existing residents first. Residential growth must happen in the right place and be timed with our ability to provide needed infrastructure and services. New development must pay its fair share of the public impacts it creates so existing taxpayers are not stuck with the bill. This is not hard. It is common sense.
Most important, I am committed to restore trust in government and trust in our elected officials. Working with the council, I will work to create an independent ethics commission not appointed by the county executive. And, will work to restore strong ethics laws and the consequences for serious ethics violations that have been removed by the current administration.
I pledge to treat citizens with dignity and respect when they come to a public hearing. Citizens have a right to know what their government is doing and have a right to be heard. Citizens should be encouraged and welcomed to participate in the public process rather than being cut off mid-sentence, dismissed, or called names like whiners and refugees as we have seen in recent years. Citizens should never be bullied. This is simply unacceptable and violates the public trust.
This election is about restoring trust in government, electing leaders who will listen to people, treat people with dignity and respect, and balance all the legitimate competing views and needs of our community, and doing this in a financially responsible way. It is about relationships based on mutual respect and trust.
Vote for leadership you can trust.
To learn more about Jan Gardner
visit her campaign website at www.jangardner.org
Read other articles related to Frederick County 2014 Election