From the Desk of an Gardner,
Candidate for County Executive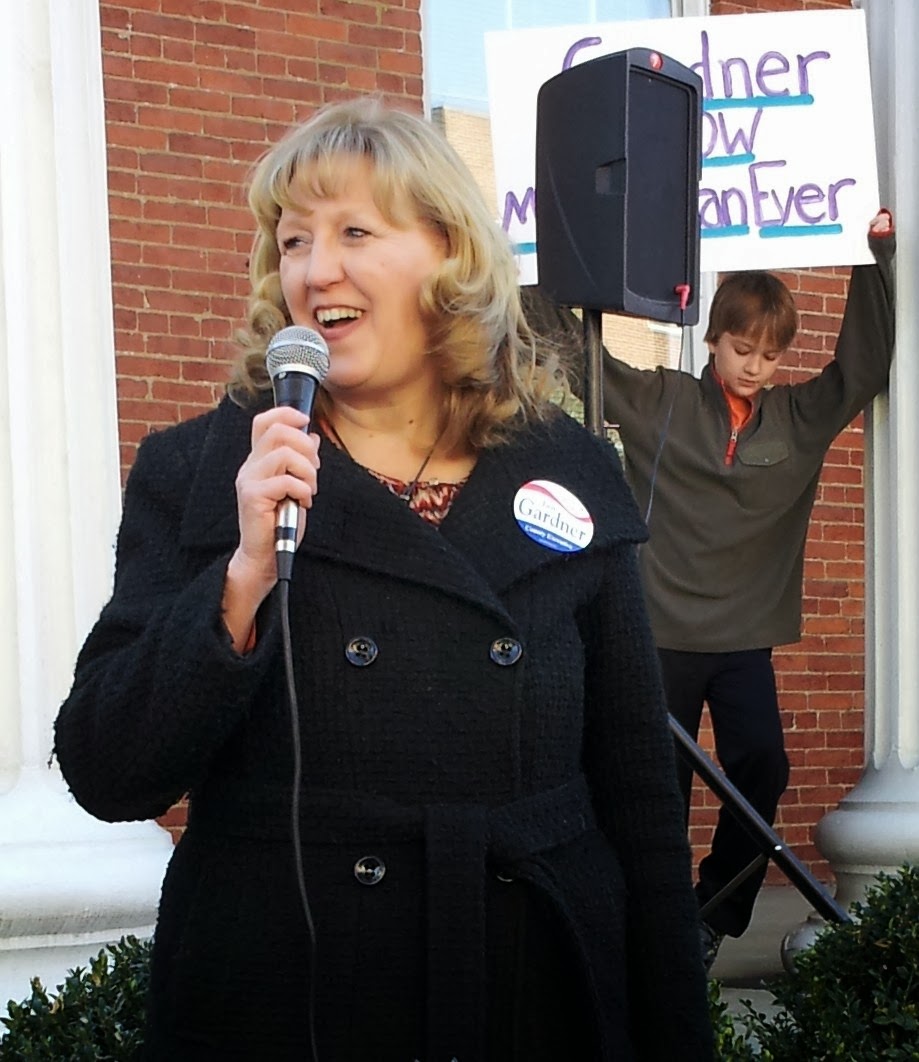 (8/2014) Residents living in Monrovia have been out in force vocally opposing a large residential development proposed in their community. They have expressed concern about road congestion and safety, school overcrowding, lack of planning for needed infrastructure and services, and the fact that water and sewer does not even exist in the area. Citizens have also expressed concern about the high density of the community and its incompatibility with the surrounding rural area.
All of these concerns have fallen on deaf ears. Existing residents have been ignored. The commissioners approved the development even though hundreds of residents, over an 18 month period of time, spoke out in opposition. Comm. President Blaine Young even wrote a letter to the editor of the Frederick News Post calling these citizens "whiners and refugees"! Citizens participating in the process were regularly cut off and questions went unanswered. The voice of the public was dismissed.
Why should you care?
You should care for two reasons. First, as a Frederick County taxpayer, you are now stuck with paying the bill for needed roads improvements, the new schools, and for the expansion of public safety. The developers have not been asked or required to pay their way. They are allowed to build even if schools and roads are overcrowded. Comm. Blaine Young publicly acknowledges that he is friends with the developer. He has gleefully given away your tax dollars.
Second, it could happen to you. The commissioners are approving development outside of planned growth areas. Approving growth outside of designated growth areas means that the State of Maryland will not participate in the cost of providing roads and schools. The entire bill is on us – Frederick County taxpayers. It also means that the county comprehensive plan is not being followed. Statistics published by the county show that in 2013 that 41% of all residential lots recorded and 96% of the acreage for residential lots were outside planned growth areas – meaning in rural areas. Even if you live outside a planned growth area, a new development project could be coming your way, because the county plan is simply not being followed.
Residents living near Emmitsburg, east of U.S. 15, have been experiencing the impacts from an unapproved event venue located on a rural road. Even though the County Board of Appeals unanimously denied the application for the event venue, large events continue because the county is issuing the owner "one day event permits" over and over again. This has disrupted the peaceful, quiet farm community in the area and raised concern about traffic on rural roads. Residents are legitimately upset that the public process has failed them and that county zoning laws are not being enforced.
Some of the county commissioners have gone on record opposing all zoning. They believe that people should be able to do whatever they want with their property and that no county approvals should be needed. Commissioners Blaine Young and Kirby Delauter have voiced their opposition to zoning of any kind. If they are elected again, will all zoning laws be eliminated? Could a major new development be approved in a rural area near you without adequate roads, schools, or services and without care for the impact on the lives of existing residents?
If you want to have a voice in your government, if you believe local laws should be fairly enforced, and if you want development to pay its way instead of existing residents, vote for county leaders who will listen to you. Vote for me, Jan Gardner, for County Executive. I pledge a fair and open public process, to protect county taxpayers from the cost of new development, and I will always put existing residents first.
To learn more about Jan Gardner
visit her campaign website at www.jangardner.org
Read other articles related to Frederick County 2014 Election