From the Desk of Maryland House of Delegates Candidate Ryan Trout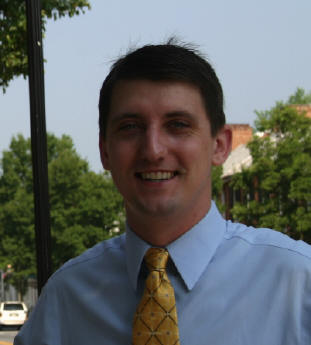 I am a sixth generation Frederick County resident and candidate for State delegate in District 4A. I was born into a military family; my father served 20 years in the United States Army, which instilled in me a sense of pride in my community and a desire to serve it. I grew up in Emmitsburg, graduated from Catoctin High School and earned a degree from Mount St. Mary's University. I have spent the last eight years working in my family's small business.
I worked my way through college in my family's restaurant, doing everything from washing dishes to managing and representing the business in the community. After college I served a year in AmeriCorps at a mediation center in Washington County.
I am a member of the Sons of the American Legion, Post 121, the Frederick County Farm Bureau, and the Frederick County Chamber of Commerce. I am also secretary of both the Woodsboro Historical Society and the Affordable Housing Council. I am also a graduate of Leadership Frederick County.
I am running for the Maryland House of Delegates to stand up for the people of District 4A and give them the representation that they deserve in Annapolis. I have done my homework, meeting with municipal leaders, county officials, and state legislators. I want to be part of a delegation that focuses on Frederick County. I come from small business and will work to ensure Maryland is a great place to work, live and raise a family. In order to do this, we need to support job creation by attracting new businesses, growing small business industries and promoting entrepreneurship. We need to advance an education that prepares students for the challenges of the next century, whether those challenges be in medicine, computer science, business, or farming. We also need to promote sustainable agriculture through education, agribusiness development, and the expansion of "buy local" programs.
We can help create jobs in Frederick County by supporting "incubators" – companies or organizations that will help to grow our small business, farm, and arts economies. Most new businesses fail within their first two years, but 80% of businesses started in an incubator environment succeed. An incubator helps a startup business by keeping overhead and seed money to a minimum, allowing the business to grow and thrive sooner. If we invest in a variety of incubators, we diversify our economic base and provide a wide range of entry level, middle management positions, and entrepreneurial opportunities in which residents can work and grow.
I believe that we can grow the economic pie and help all businesses get a larger slice of that pie. Legislators need to review and adjust regulations in order to allow businesses to flourish and expand. We need to be more business friendly across the board; our tax structure, our permitting processes and our incentives for attracting businesses to our county all need to be improved.
We need to invest in our local businesses. I believe that we can do this by deregulating niche markets and supporting programs that offer training and education to lower and middle level employees. Providing these services will allow employees to be cross-trained and thus become more marketable. A more highly educated Maryland workforce will also be more competitive and help employees advance in their existing career or perhaps to create their own small business, which will itself employ new entry-level employees, resulting in lower unemployment rates and providing jobs for recent graduates.
The education of our children must remain a top priority. Maryland's education system has been named number one in the United States for the past two years, according to Education Week. But we cannot become complacent. We need to ensure that students are well prepared for the challenges of the 21st century, whether those challenges arise in computer sciences, environmental biology, agriculture or numerous other subject areas.
Maryland needs to reinvest in our agricultural, vocational technology, and career technology educational programs. Investing in alternative educational programs will encourage young people to fill jobs needed in our society and to pursue a profession that they will enjoy and in which they will succeed.
We must work to lower the debt burden for graduating students. According to a 2006 report of financial literacy by the National Association of State Boards of Education, the average college graduate enters the workforce with more than $16,000 in student loans and $3,500 in credit card debt. The US Department of Education notes that 39 percent of all student borrowers graduate with unmanageable debt. We need to guarantee that all students understand personal finance by the time they graduate high school. In these tough economic times, each new generation will need an understanding of credit, savings, and investing.
While in Annapolis, I will promote sustainable agriculture. According to the 2002 Census of Agriculture, the average age of farmers was 55.9. The average age has increased over the last several decades because many young Americans no longer choose farming as a career due to its low economic viability. In order to encourage a new generation to become farmers, I would support a program to develop farm incubators. This will make farming more accessible, teach young farmers how to create a successful agri-business, increase the number of young farmers, and make it economically viable, while also providing the community with a variety of locally grown food.
Governor Martin O'Malley has said, "Buying local will help continue our effort to protect and strengthen our middle class, our family-owned businesses and our family farms, while preserving our farmlands and promoting rural economic development programs." I could not agree more; buying local is not only the future of farming, but it can help save current farmers by making farming economically viable.
Again, my name is Ryan Trout, and I am running for the Maryland House of Delegates in District 4A to support small business, advance education initiatives, and promote sustainable agriculture. I hope that you will consider voting for me this fall.
Read position papers of other candidates running in the 2010 primary